Context
Every year, around 140 billion cubic meters of natural gas produced together with oil is burned or "flared" at thousands of oil fields around the world. This results in more than 300 million tons of CO2 being emitted to the atmosphere – equivalent to emissions from approximately 77 million cars. If this amount of gas were used for power generation, it could provide more electricity (750bn kWh) than the entire African continent is consuming today. But currently, the gas is flared for a variety of technical, regulatory, and economic reasons, or because its use is not given high priority.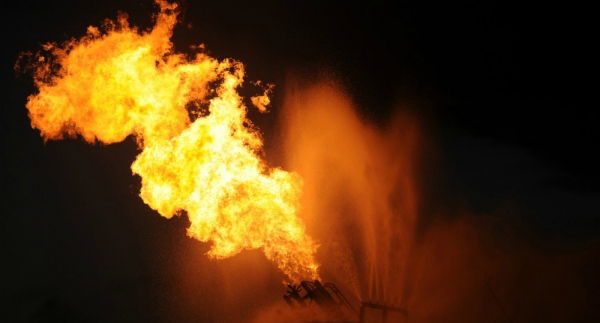 High-Impact Opportunity: Phase-out of Gas Flaring from Oil Production
In brief: The Phase-out of Gas Flaring from Oil Production HIO will promote multi-stakeholder cooperation between governments and companies, both at the country and regional level, along the full value chain of gas.
Impact: Using the gas that is typically flared for power generation or other refined products through the creation of viable markets, will contribute to sustainable energy use and increase access to energy without increasing CO2 emissions. It will also support economic development by creating new value chains, providing tax income for countries, and supplying value for producers.
Strategy: Multi-stakeholder cooperation along the value chain of gas is needed to reduce risk and to establish incentives for investment in pipelines, technology, production facilities, infrastructure, customers, finance frameworks, as well as stable and transparent regulatory frameworks. The Phase-out of Gas Flaring from Oil Production HIO will build on the work of the World Bank-led Global Gas Flaring Reduction Partnership and further promote multi-stakeholder cooperation.
This High-Impact Opportunity will:
Share important information with all stakeholders – regulatory authorities, industry, financial investors and market developers, local communities – on country-specific challenges and how they can be addressed;
Support development banks and donor countries as they help de-risk private investments in flaring reduction projects in order to leverage private capital and operational capacities;
Promote institutional capacity building on anti-flaring opportunities within national energy plans;
Engage with partners considering funding through technology funds, loan guarantees and carbon credits.
Sustainable Energy for All's Value Add:
Promote and add value to the World Bank-led Global Gas Flaring Reduction Partnership;
Promote institutional capacity building;
Identify and support the business cases for gas utilization;
Support linkages to countries that have chosen to pursue Sustainable Energy for All's objectives.
Highlights of High Impact Initiatives (HIIs)
The World Bank-led Global Gas Flaring Reduction Partnership (GGFR)
GGFR convenes 30 governments, companies, and institutions that cooperate to minimize global gas flaring. Launched in 2002, the program delivers a platform for dialogue and collaboration, develops global standards and guidelines, implements country-specific gas utilization projects, and monitors global flaring. It takes a comprehensive approach to gas flaring reduction efforts by assisting in gas infrastructure and gas market development, particularly to expand access to cleaner electricity and cooking fuels.
Eni's Gas Flaring Reduction Targets
In addition to participating in the Global Gas Flaring Reduction Partnership, Eni has set a number of targets relating to reduction of gas flaring in its operations globally. In 2012, Eni continued working to achieve on-shore zero gas flaring in the Republic of Congo. By 2014, the company looks to recover 95% of the gas flared in association with oil production in Nigeria. By 2015, Eni has committed to reducing 80% in the volume of gas flared compared with the volume burnt in 2007, recovering more than 5 million tons of gas per year from flaring. By 2013, Eni also plans to rehabilitate and extend its Pointe-Noire's low tension electricity network, in the second largest city in the Republic of the Congo, to enable new connections to 140,000 people using associated gas.
Statoil
In addition to participating in and providing funding for the Global Gas Flaring Reduction Partnership, Statoil has set a flaring intensity target of a maximum 2 tons of gas flared per 1000 tons of hydrocarbons produced by 2020. Statoil remains committed to the continued implementation of its no-production flaring requirement in Statoil-operated licenses through to 2030.
Goal 671
Goal 671 with ECO Care is an initiative to finance and deliver 671 Flare Gas Well recoveries to serve up to 100 million homes in Africa, Asia and South America with affordable clean burning cooking and lighting methane fuel. Local investment and development options include the opportunity to "top-up" methane supplies with locally generated biogas from waste recovery in anaerobic bio-digesters.
 
For more information on the Phase-out of Gas Flaring from Oil Production HIO, please contact:
Bjorn Hamso, GGFR Program Manager at The World Bank Group,
bhamso@worldbank.org
.