Universal Energy Facility: Standalone Solar for Productive Use
The Stand-Alone Solar for Productive Use (SSPU) programme of the UEF is designed to scale up electricity access to households, and small and medium enterprises (SMEs). The programme offers results-based grants to solar companies for verified end-user connections based on pre-determined standards. Companies using energy-as-a-service or lease-to-own business models are supported under the SSPU programme.
The objectives of the UEF Stand-Alone Solar for Productive Use programme include:
Scale up electricity access for SMEs by supporting sustainable business models that address the challenge of making full upfront payments to purchase solar systems which helps to alleviate the switching costs from polluting energy sources such as fuel generators.
De-risk investments in solar companies by providing grant payments to enable solar companies expand their operations to new market segments and serve as a blended finance mechanism to crowd-in additional private capital.
The UEF launched the SSPU funding window in Nigeria on 24 August 2022 with a call for Pre-Qualification Applications. The deadline for Pre-Qualification Applications is 4 October. 
Weekly Question and Answer sessions are being held Tuesday, 20 September and 27 September at 14:00 WAT to help eligible renewable energy companies become familiar with the Universal Energy Facility's Stand-Alone Solar for Productive Use programme in Nigeria.
Eligibility
Interested applicants must meet the following eligibility criteria:
Must be a for-profit company legally registered with established business operations in the project host country with a relevant business/trading license
Have at least one (1) year of experience with operational capability to track and report on sales and provide aftersales support to customers with an established CRM/PAYG platform in place
Evidence of ability to raise the upfront financing required to implement the project within 12-18 months
Evidence of compliance with financial reporting requirements, including audited financial reports and company tax clearance no older than 12 months
Only stand-alone solar systems of between 100W and 5kW installed with lithium-ion batteries are eligible
Must comply with product quality and minimum service standard; environmental and social management systems; and gender mainstreaming
Nigeria Programme Application Timeline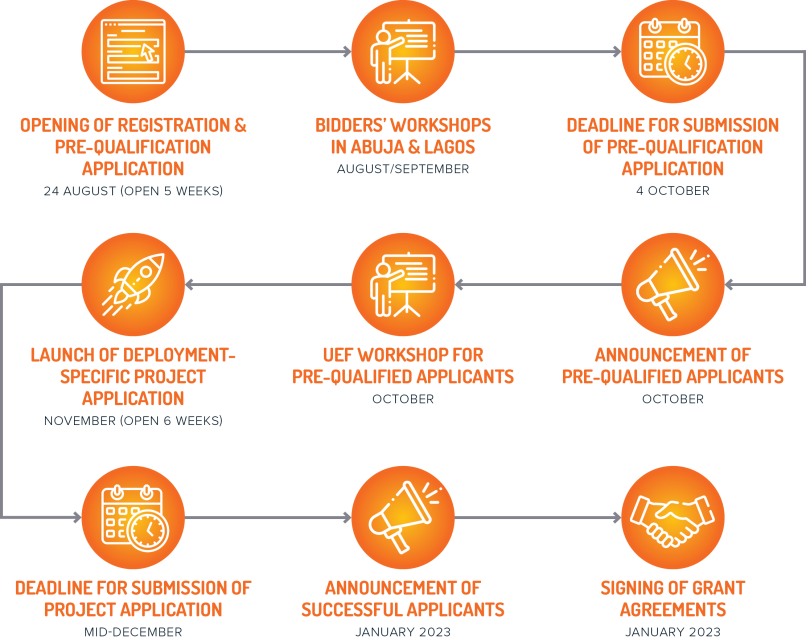 Subsidy Payment
The UEF will pay 40 percent of the landing cost (CAPEX) for each unit of SSPU deployed up to a pre-determined maximum amount. The grant will be paid in USD in two tranches – 30 percent installation payment (30 days after deployment) and 10 percent sustainability payment (18 months after deployment).
The grantee will receive approval for grant disbursement once the UEF Programme Manager verifies deployments and connections and final approval is granted by the UEF Governing Board. Grantees are required to comply with the UEF quality and service standards and provide support to the UEF in arranging verification visits by verification agents.
How to Apply
The UEF implements a two-stage application process (Pre-Qualification and Deployment-specific Application stage). Only Pre-Qualified Applicants that meet the eligibility criteria and application requirements will be invited to take part in the final Deployment-specific Application stage.
The UEF's administrative processes take place through a secure, web-based IT platform (the "UEF Platform") that enables transparent application processing, project monitoring, remote connection verification and data aggregation. The UEF will launch a Call for Pre-qualification Application to short-list eligible, pre-qualified companies. Thereafter, the UEF will release the Project Application Collection announcements, which invite pre-qualified companies to apply for a grant for their project.
Email us for more information: UEF@seforall.org