A Framework for Action
A Framework for Action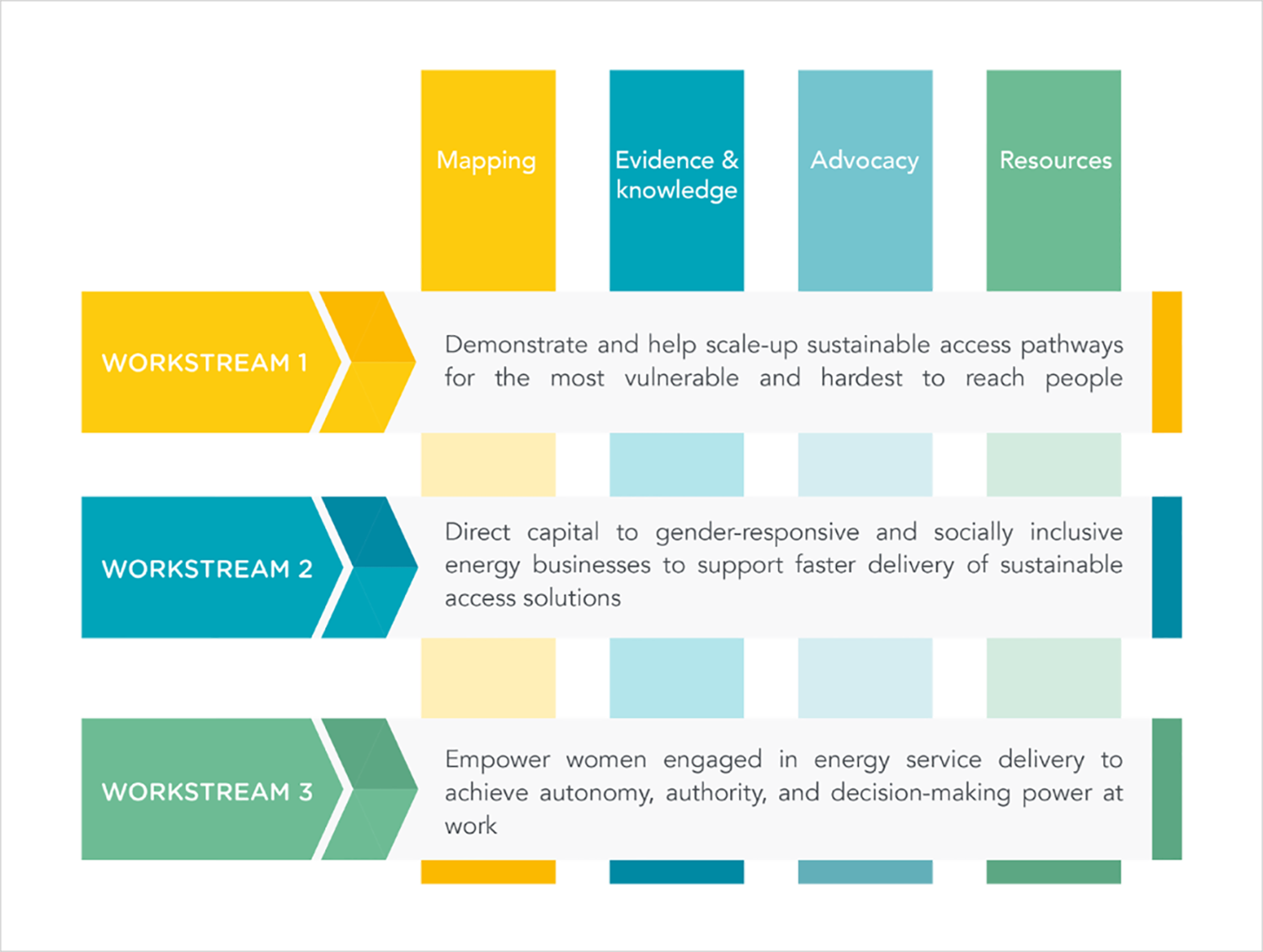 SEforALL is working with interested partners over 2018-21 on an action-orientated work plan that aims to:
Demonstrate and help scale-up sustainable access pathways for the most vulnerable and hardest-to-reach people. Business-as-usual solutions are not working to deliver energy access to women and the most vulnerable and hardest-to-reach people, particularly those living in urban slums and rural parts of Sub-Saharan Africa and the Asia Pacific. Women and girls represent 50 percent of the people living in poor households in developing countries.
The Accelerator aims to work with governments to develop innovative social safety net bundles that would enable access to energy, social protection services, and a regular cash payment for the most vulnerable and hardest-to-reach people, and to facilitate the development and scaling of opportunities for women's participation in the clean energy and/or cooking sectors as service users, entrepreneurs,engineers, designers, and businesswomen.
Help direct capital to gender-responsive and socially inclusive energy businesses to support faster delivery of sustainable access solutions. Finance needs to flow faster to support gender-responsive and socially inclusive energy access solutions along the entire value chain. Financiers seek a bankable investment pipeline but face challenges in identifying proposals that meet their investment criteria and timing. Enterprises and market participants face barriers accessing finance and creating financially viable business models that are scalable.
The Accelerator will explore how it can help to: develop a pipeline of gender-responsive and socially inclusive sustainable energy access investments; facilitate the engagement of gender-responsive and socially inclusive energy businesses with a coalition of funders interested in investing in energy-access solutions; and advocate for energy companies and investors to apply a gender-responsive and socially inclusive lens to investments in energy access.
Empower women engaged in energy service delivery to achieve autonomy, authority, and decision-making power at work and thereby accelerate progress on international climate change and sustainable energy goals. The energy sector is behind other sectors in terms of gender balance— from girls' and young women's participation rates in science, technology, and mathematics education, to women in the energy-sector workforce, in management, or on the boards of energy services companies. Conventional energy policies tend to focus on energy supply, with limited attention to women's empowerment in the energy sector, risking vital opportunities to draw on women's local knowledge and capabilities as energy leaders and entrepreneurs.
The Accelerator will help to: advocate for changes in public and private-sector policy to support and empower women to engage in all levels of energy services delivery; connect women working in energy services delivery with others who can help build their capacity, mentor them, or serve as role models; and connect businesses with best practices in organizational policy and female representation across both management and workforce to each other, and to those who seek to improve performance.
Partners are mapping stakeholders and initiatives working on these issues globally to help inform engagements and opportunities to enhance partnerships. Work is also underway to gather the data and evidence to support the business case for action in each work stream