This year's Global Tracking Framework (GTF) is an urgent call for leaders to take greater, more focused action to deliver sustainable energy for all.
We have just 13 years to meet the Sustainable Development Goals. Doing so will require a rapid increase in energy productivity, a new generation of institutions to manage our energy systems, an integrated approach that embraces centralized and decentralized sources, and a greater share of renewables in the mix. Securing this energy transition will be a critical contribution to the delivery of other Sustainable Development Goals (SDGs). Sustainable energy powers education and health systems, new businesses in previously unserved communities, jobs, manufacturing and industrialization, and water storage and food security.
To meet the Sustainable Development Goal for energy (SDG 7), Sustainable Energy for All and our partners are working to advance progress on three 2030 objectives: ensure universal access to modern energy services; double the share of renewable energy in the global energy mix; and double the global rate of improvement in energy efficiency.
This third edition of the GTF provides an evidence-based look at progress at the regional, country, and international level toward meeting these objectives. The report provides an overview of long-term trends since 1990 and focuses on progress achieved in the most recent period, 2012–14. So how are we doing?
Many countries are taking action, but the world as a whole is not moving fast enough.
However, it's heartening to see that progress on energy efficiency is gaining momentum, bringing us closer to the pace needed to meet 2030 objectives. The intensity of final energy consumption in industry, agriculture, services, and transport is decreasing. But improvements in the efficiency of thermal power generation and power networks have been relatively slow and the fast-growing residential sector is becoming more energy intensive. Investment in energy efficiency needs to increase by a factor of 3 to 6 from the current $250 billion a year in order to reach the 2030 objective.
Speed of progress toward electrification goal 2012–14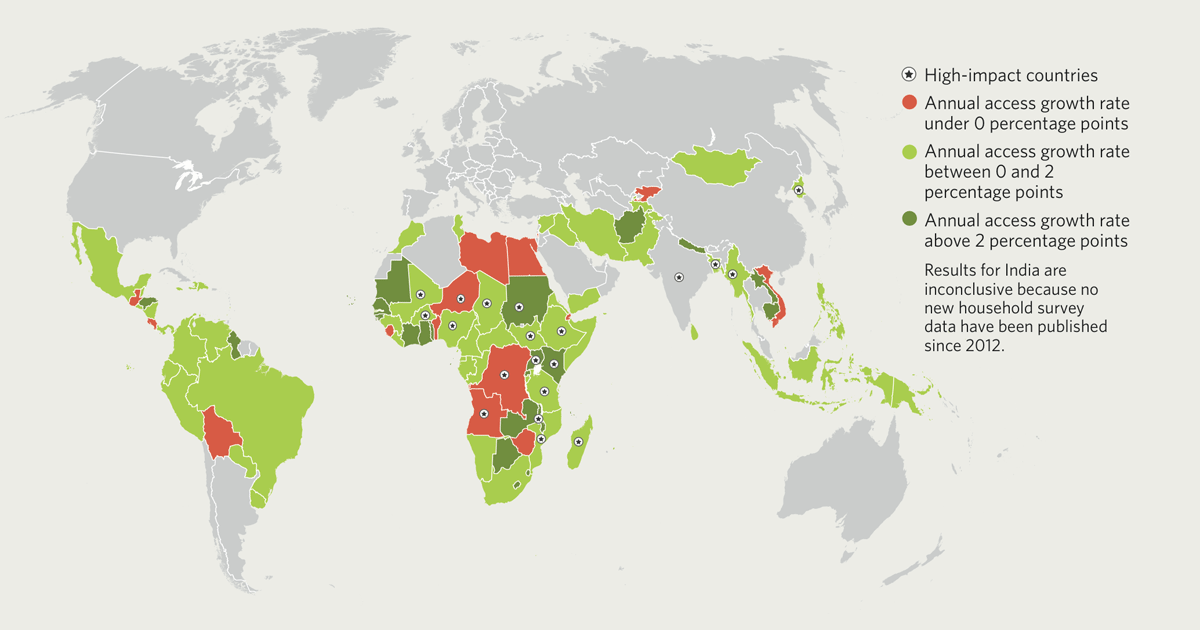 On renewable energy, the GTF shows that despite advances in technology and falling prices in the electricity sector—particularly for solar and wind—the gains in the energy mix are a fraction of what is needed to meet global objectives. Those countries that have set aggressive targets for renewable energy are seeing rapid progress and need to be joined by others.
On closing the energy access gap, 1.06 billion people still live without electricity, and the number of people who still use traditional, solid fuels to cook rose slightly to 3.04 billion, indicating that efforts to advance clean cooking are not keeping up with population growth. However, the report shows that countries making energy access a policy priority can accelerate rapidly, particularly as new off-grid solar technologies start to come into play.
We hope that you will read the GTF alongside another study released in February 2017, which examines the regulatory framework for sustainable energy in 111 countries. RISE (Regulatory Indicators for Sustainable Energy) complements the findings in this report by putting the spotlight on the adoption of policies that support more rapid progress.
As global attention increasingly focuses on sustainable energy, providing decision-makers with timely updates of progress is more urgent than ever. Next year, the Sustainable Energy for All Global Tracking Framework will move to an annual rather than a bi-annual cycle. Decision makers will be able to access the data in a more timely manner and implement changes needed to get us to the finish line.
It's possible to secure sustainable energy for all by 2030. But we are not on track. We must rise to the challenge agreed by the international community.
We must heed the clarion call.
We must all go further, faster—together.
Visit the Global Tracking Framework website here.
Download the 2017 Global Tracking Framework Report here.
Read the Global Tracking Framework Launch press release here.