First SEforALL Annual Forum attracts Civil Society and Non-Governmental Organizations in support of Sustainable Energy for Sustainable Development
United Nations, New York - 4 June 2014 – The annual Sustainable Energy for All Forum has brought together high-level participants from Civil Society (CSOs) and Non-Governmental organizations (NGOs) in support of Secretary-General Ban Ki-moon's initiative on Sustainable Energy for All.
Speaking on behalf of the energy poor and the marginalized and underscoring the importance of sustainable energy for sustainable development, CSO and NGO representatives will over three days, assess progress on billions of dollars made in commitments at the Rio+20 and identify innovative and practical solutions needed to meet the initiative three targets especially ending energy poverty.
In 2012, at the Rio+20 Summit, governments and private investors launched new energy strategies and pledged more than USD 50 billion in support of the initiative on and its targets of providing modern energy access, doubling the rate of energy efficiency and doubling the share of global renewable energy by 2030.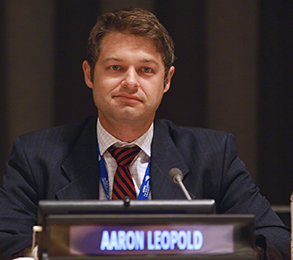 According to Aaron Leopold, it is of critical importance that stakeholders including CSOs and NGOS play an important role in finding the solutions needed to end energy poverty.
"As Advocates for the poor, we are able to build long-term relationships with communities mired in energy poverty. We act as capacity-builders, service providers as well as credible intermediaries between the energy-poor, government and private sector," said Leopold, a global energy advocate at Practical Action.
The central focus of the spirited debates by the CSO and NGO communities were on growing the SEforALL movement, catalysing investment through innovative business solutions, sharing knowledge and experiences, developing capacity building and accelerating country action in communities where it is most needed.
On the importance of the forum, Leopold noted that the SEforALL event "represents the annual opportunity to highlight access in a multi-stakeholder context particularly in offering an avenue for increasing the reach and traction of ideas towards ending energy poverty. As an initiative, SEforALL stands at the epicentre of global efforts to end poverty and develop sustainable."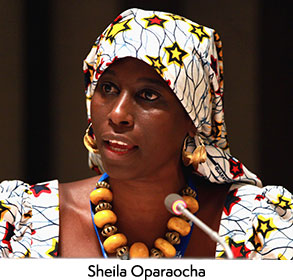 Speaking at the closing plenary, ENERGIA's Executive Secretary, Sheila Oparaocha noted her satisfaction with the overall participation of civil society representatives. "It is really great to see energy being discussed in its totality as an enabler of development in the United Nations. We will continue our advocacy on behalf of the poor and women and girls because it matters for their empowerment and their socio-economic development," she said.
As part of the Sustainable Energy for All Initiative, the United Nations Foundation has formed a global Energy Access Practitioner Network consisting of over 1500 members from numerous civil and non-governmental organizations from 191 countries with a balanced representation from the private sector including small and medium enterprises (SMEs), large corporations, investors, academia and government organizations. Collectively, they deliver energy services to more than 19 million households annually.
This group brings together practitioners working on the delivery of energy services and solutions related to electrification in a range of developing country contexts to develop a more integrated approach to energy access planning and execution in support of the Sustainable Energy for All objective of achieving universal access to modern energy services by 2030. The members are working together to catalyze the scale-up of renewable and low-carbon technologies and spur the market toward universal energy access.