Shape the future around sustainable energy
'The next ten years will decide a lot,' said Mr. Mattias Sundholm during the Opening Ceremony of the North American Student Energy Summit, as he launched the Decade on the behalf of the Secretary-General's Envoy on Youth, adding: 'This is a chance for you to think about how you can shape your future careers around issues related to sustainable energy. This is a chance to make a commitment, to make your mark and to create a legacy. I don't mean to sound like a job coach, but what do you want to achieve in the next ten years? Where do you want to be?' (speech of the Secretary General's Youth Envoy)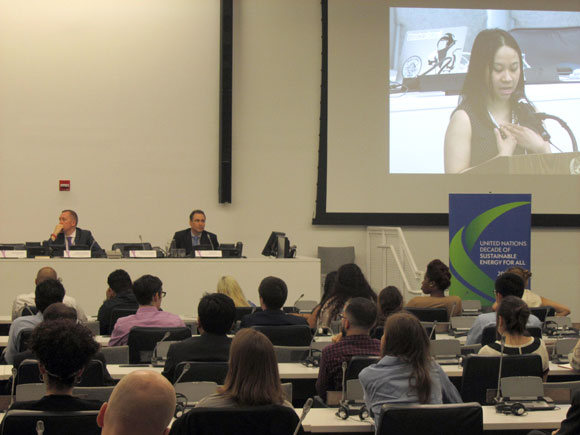 Ms. Janice Tran, one of the Co-Founders of Student Energy, was clear as to who will have to follow through on energy targets, such as the SEforALL targets, which are to be achieved by 2030. 'We hear about 2030, 2050 targets from our global leaders. But when we do the math - think about it. Who's going to be enacting those? Us; the people in this room'.
Canadian Consul General John F. Prato was equally clear when he told students what would have been his career of choice if he were to restart his career today. 'If I were to start my career again, I would be doing exactly what everyone in this room is doing: focusing on energy is focusing on the most dynamic, interesting and fast-changing segment of our economy. And it is why you are here today,' said Consul General Prato.
Following a thorough and substantial presentation by Ms. Melanie Kenderdine, Director of Energy Policy and Systems Analysis at the U.S. Department of Energy, Ms. Janice Tran – Co-Founder of Student Energy – repeated and concluded the following, referring to growth in global warming: ´Melanie, when you showed that slide with the 7 Celsius increase under policy as usual, that´s pretty scary! And who´s going to have to solve it? It is going to be us'.