The future of clean energy is in Asia
On June 8 2016, Asia Clean Energy Forum 2016 formally opened with a series of welcoming remarks and keynote addresses from the Asian Development Bank, its partners, and pre-eminent thinkers in the clean energy world.
Asian Development Bank (ADB) Director General for Sustainable Development and Climate Change Carmela Locsin introduced ADB President Takehiko Nakao, who gave an overview of the progress made by the international community in promoting clean energy, as well as the challenges that remain to be overcome. President Nakao was followed by United States Ambassador to the Philippines Philip Goldberg then welcomed ACEF participants and highlighted the pioneering role the Asia-Pacific region has to play in shaping the world's clean energy future.
To conclude the first session of the opening plenary, Rachel Kyte, CEO of the Sustainable Energy for All and Special Representative of the UN Secretary General, gave an inspirational keynote address and made a call to arms for the clean energy community in Asia, "We are ready for an extraordinary new era of clean energy. The industrial revolution started in Europe, but the future of clean energy is in Asia," said Kyte."In order to turn around climate momentum, we need to have GHG emissions peak in 2020, and not 2025. Efficiency must come first. It is the cheapest fuel source and is available to everyone. Access need to be placed at the heart of any clean energy transition. We need to delink ourselves from the carbon intensity of a centralized power system that is failing and not providing the energy services people need."
Kyte also highlighted "The Paris climate commitment makes the UN Sustainable Development Goals all the more urgent. SEforALL is a platform that can help Asia go further, faster, to drive the sustainable energy transition. - Do we have the courage to imagine what it would be like if we were successful in achieving our sustainability and climate goals in the next 10 years?"
Invoking a tangible and accessible image of a resilient future for clean energy in Asia and its impact on improving the lives of the poorest communities. Ms. Kyte invited ACEF participants to imagine a 2024 where Pacific islanders, urban residents, and rural villagers were all able to take advantage of clean, affordable energy and related technologies. She reiterated the priorities for making that future a reality:
1. Putting efficiency first
2. Putting access at the heart of any clean energy transition
3. Developing coherent policy that sends consistent price signals
4. Understanding the risks and planning for them
5. Leaving no one behind.
Ms. Kyte called for an extraordinary new era of action that will turn the promise of technological revolution into a clean energy transformation.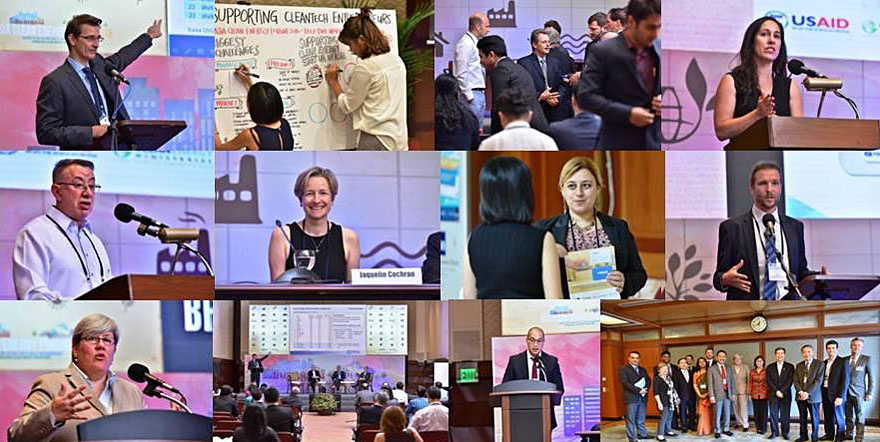 ACEF on facebook
https://www.facebook.com/hashtag/adbclimate?source=feed_text&story_id=1014739838563417
ACEF Daily Bulletin
http://us5.campaign-archive1.com/?u=3b81ff2bd19efbf529e410c6b&id=ab157056cf&e=12980496e2 
Further info on ACEF
The Asia Clean Energy Forum (ACEF) is the premier knowledge-sharing event for staying current with the latest developments and key issues in Asia's clean energy sector. Each June , clean energy professionals convene at ADB Headquarters to network, discuss issues, exchange knowledge and do business.
In 2016, ACEF will fill the whole week with events. The Pre-Forum period, Monday and Tuesday 6 and 7 June, will have several pre-forum events, including the Asia Solar Energy Forum and the Energy for All Investor Forum. In addition, this year the interactive Deep Dive Workshops introduced in 2014 will be run on the Monday and Tuesday as well. This will give participants more time to share in-depth knowledge on specific challenges in clean energy. Each workshop is highly targeted, focusing on specific technologies or policy issues, such as hybrid renewable minigrids or renewable energy grid integration.
For more visit the ACEF site here.