Five key takeaways from Tracking SDG7: The Energy Progress Report 2020
Despite energy's critical role in catalyzing economic development and supporting people's health and livelihoods, the world remains severely off track to achieve universal access to affordable, reliable, sustainable and modern energy for all by 2030, as called for by Sustainable Development Goal 7 (SDG7).
This reality is brought to light by Tracking SDG7: The Energy Progress Report 2020, an annual report that tracks global, regional and country progress on the SDG7 targets of access to electricity and clean cooking, renewable energy and energy efficiency.
According to the latest data released today, 789 million people globally still lack access to electricity and 2.8 billion people—over a third of the world's population—are unable to cook cleanly and safely.
The lack of progress is even more troubling under the current circumstances of COVID-19 since energy resources are essential for countries to respond effectively to the pandemic, particularly for providing health-care services. Meanwhile, developing countries will need improved energy access in the aftermath of the crisis for them to continue to build critical infrastructure and their economies.
Speaking on the release of the report, Damilola Ogunbiyi, CEO and Special Representative of the UN Secretary-General for Sustainable Energy for All (SEforALL), and Co-Chair of UN-Energy, said:
"As the COVID-19 pandemic has shown, energy access saves lives. Yet the latest Tracking SDG7 data shows us that 789 million people do not have access to electricity and 2.8 billion lack clean cooking solutions. If trends continue, we will not deliver the promise of universal energy access by 2030. We can no longer accept this incremental rate of progress and must renew our commitment to an integrated energy transition that accelerates the pace of progress on access, prioritizes energy efficiency and supports faster growth of renewables."
Based on SEforALL's analysis of the Tracking SDG7 findings, here are five takeaways from this year's report.
This is our reset moment. We can recover better.
Countries must make use of affordable, modern renewable energy sources that can support economic recovery in the aftermath of COVID-19. This could allow countries to 'Recover Better' and create a whole-economy approach to deliver universal sustainable energy access—in turn helping place the global economy on a trajectory in line with the Paris Agreement and SDGs. 
We have an opportunity to Recover Better post-COVID-19 by focusing on how energy access can spark economic and social development, leading to greater health and improved livelihoods for millions of people. Under a Recover Better strategy, we need to redefine energy access as energy for development, productive use and economic opportunity. 
SEforALL will soon release Recover Better with Sustainable Energy for All: A Sustainable Energy Guide for African and Caribbean Countries to support these countries in rebuilding their economies and rethinking their energy supplies post COVID-19. Sign up to our newsletter to hear more. 
Electricity access is growing, but not for everyone 
Significant progress on electrification has been made since 2010 with the number of unelectrified people reduced from 1.2 billion to 789 million in 2018. The decline was most significant in Central Asia and Southern Asia, where the deficit shrank from 441 million in 2010 to 152 million in 2018.
The electricity access challenge remains heavily concentrated in Africa, whose share of the world's unelectrified population increased from 48 to 70 percent between 2010 and 2018. In Sub-Saharan Africa, 548 million people continued to lack electricity access in 2018. Beyond these numbers, there are millions more people in the region who only have minimal or unreliable electricity access. 
Now more than ever, we must concentrate our efforts and resources on Africa. To address the chronic underinvestment in the continent's electricity sector, which has been highlighted in our Energizing Finance research, we must ensure that public investments in electricity more effectively catalyze private capital, especially for the off-grid and mini-grid sectors, which are well-suited to meet the energy needs of rural and remote customers.
We can no longer ignore the crisis: a lack of clean cooking
The world is failing to answer the clean cooking challenge. If current trends persist, almost 30 percent of the global population will still be without access to clean cooking solutions by 2030.
Although gains have been made in Asia, population growth continues to outpace the annual increase in the number of people gaining access to clean cooking in Sub-Saharan Africa. This has resulted in the number of people without clean cooking access increasing from 750 million people to 890 million people, or around 85 percent of the region's population from 2010 to 2018.
Lack of political urgency and sustained investment, the absence of market enabling conditions, and poor institutional frameworks have hindered the development of the clean cooking sector. We must commit to implementing all necessary actions, including, but not limited to, mobilizing finance, supporting innovative business models, undertaking market development activities to scale and replicating best practices. 
These should be supported by national clean cooking targets and enabling laws, policies and regulations to send strong market signals and a stable investment environment. Targeted public education campaigns should emphasize the health, safety and climate benefits of transitioning from traditional cooking techniques to cleaner and healthier alternatives.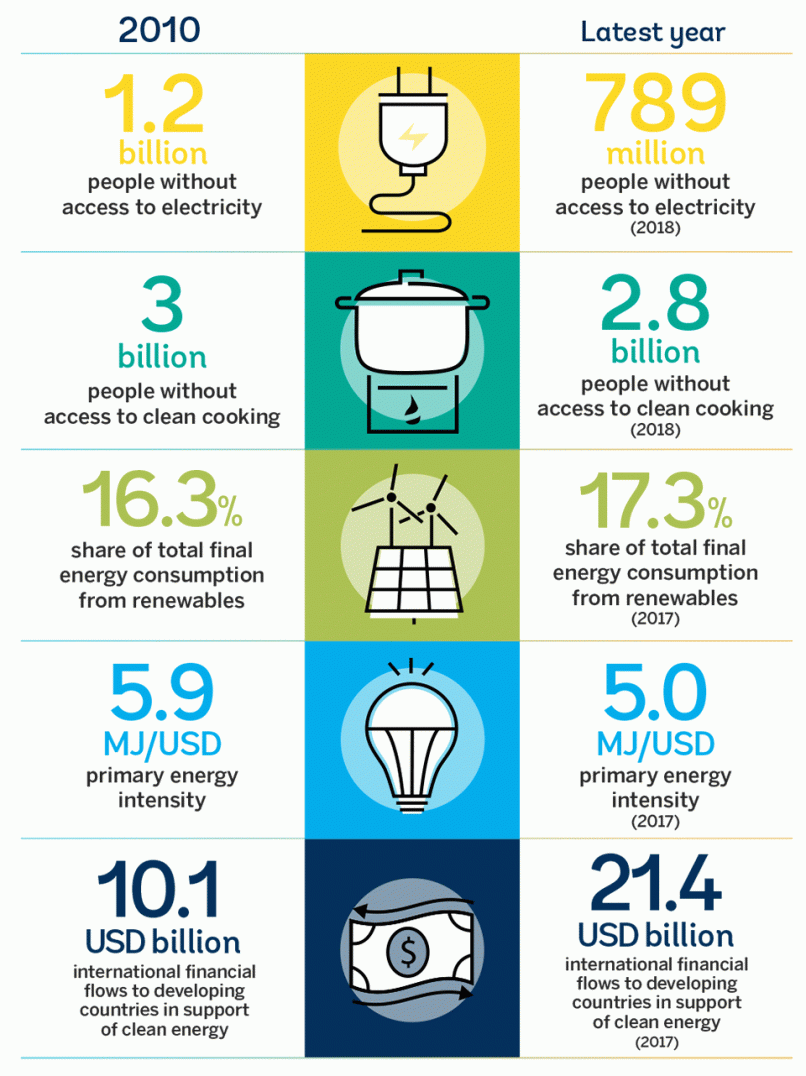 Energy inefficiency is costing us
Slow progress on energy efficiency is undermining efforts towards all SDG7 targets and carbon reduction.
Since peaking at a 3 percent rate of improvement in 2015, this year's report shows a continuing decline in the pace of progress on energy efficiency. The rate of improvement from 2016 to 2017 was down to 1.7 percent, which is the lowest rate of improvement since 2010 and far from the 3 percent rate of annual improvement needed each year.  
The 3 percent target remains within reach, but coordinated efforts are needed between governments and partners to double annual investment in energy efficiency by 2025, and double again between 2025 and 2040, according to IEA (2018) analysis.
To encourage this investment, countries and organizations need to make public commitments, for example through Nationally Determined Contributions (NDCs) under the Paris Agreement and cross-sector Energy Compacts, like the Three Percent Club on energy efficiency, to support the implementation of energy efficiency economy-wide.
The renewable energy opportunity is still to be fully realized
Decentralized, renewable solutions that will be essential for providing energy access to millions are not being deployed fast enough, and renewable energy uptake is moving at a moderate pace.
As we focus on accelerating the uptake of modern renewables for electricity, heat and the transport sector, it becomes important for each country to realize the advantages of integrated and comprehensive energy policy and planning based on data and evidence.
Universal Integrated Energy Planning, for example, can address planning, policy and programs of energy access and clean cooking, combined with energy efficiency and renewable energy, creating coherent and cost-effective implementation opportunities in the whole energy sector.
Tracking SDG7: The Energy Progress Report 2020 is published by the International Energy Agency (IEA), the International Renewable Energy Agency (IRENA), the United Nations Statistics Division (UNSD), the World Bank and the World Health Organization (WHO). This is the sixth edition of the report that was previously published under the title, Global Tracking Framework. 
For any media requests, please email Media@SEforALL.org. Follow SEforALL and Damilola Ogunibiyi on Twitter for the latest.