This Is Cool Challenge: A call for proposals
Winners Announced!
The youth worldwide were as excited to drop in their submission as we were to receive them. There were close to 100 entries, with around 70% from the African continent and around 20% from the Asian continent – each vying for the top prize of $10,000 as the winner of the #ThisIsCool Youth Challenge.
SEforALL brought the finalists of the #ThisIsCool Challenge at the SDG7 Pavilion at COP27 in Sharm El-Sheikh, Egypt on 10th November 2022 on the Youth Day for the final presentations and award ceremony. The finalists are –
1. Onwusoro Emmanuel, Nigeria
Smart Cold Chain Monitoring System consists of a smart sensor device, that records temperature, humidity, particulate matter, and location during the journey, our Reliable Monitoring system keeps our users in control during cold chain transit. They will work with youth and women in countries creating job employment, training, and knowledge expansion, and have various community programs that create a greener environment and empowers the community.
2. Dysmus Kisilu, Kenya
Solar Freeze is solar-powered refrigeration that reduces the waste of sensitive medical and vaccine waste. Solar Freeze has participated in mentoring and training 100 young women aged 18-29 years and the youth in the field of renewable energy through a program called "Each One, Teach One - Train to Earn" where rural youth gain practical hand on technical skills and are guided on how to operate equipment powered by renewable energy.
3. Maria Omulubi, Kenya
Miti Mitaani ("Trees on the Streets") is a social enterprise at the forefront of mitigating climate change while providing viable work for low-income youth in urban centers across Africa. Miti Mitaani provides training on ecological best practices, seedlings, and regular visits from a Tree Officer. Youth are paid on a monthly basis via mobile money, based on the number of trees planted and the survival of those trees. The goal of the pilot is to refine the program design so that they can scale this intervention to more groups and other cities.
The finalists presented their innovations in front of a live audience and the first prize was bagged by – SOLAR FREEZE FROM KENYA.
You can watch the whole video at the SEforALL COP27 platform here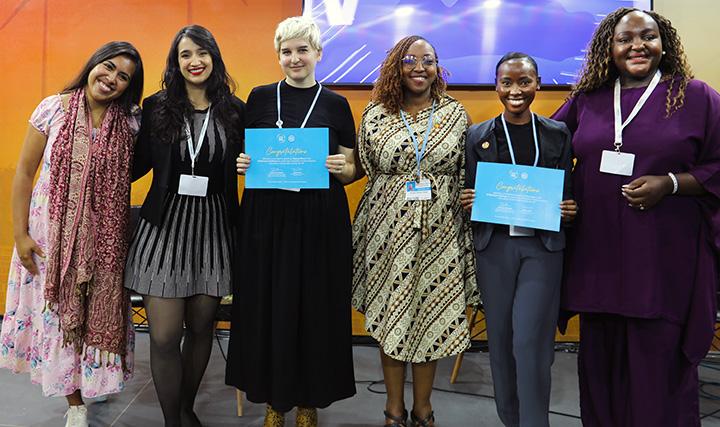 What is it?
The analysis for 2022 shows that across 54 high-impact countries identified in previous Chilling Prospects reports, 1.2 billion people among the rural and urban poor are at high risk due to a lack of access to cooling. A further 2.47 billion lower-middle-income people pose a different kind of risk: they will soon be able to purchase the most affordable air conditioner or refrigerator, but price sensitivity and limited purchasing options mean they favour devices that are likely to be inefficient, threatening energy systems and resulting in increased GHG emissions. Delivering on cooling needs with sustainable, affordable solutions will be key to achieving many Sustainable Development Goals.
What is your proposed technology or policy initiative to accelerate access to affordable and sustainable cooling?
What are we looking for?
We are looking for youth-led sustainable cooling solutions that can help deliver on one of more of the three cooling needs: 
Human comfort and safety: passive or active personal, space or urban cooling
Food, nutrition and agriculture: agricultural cold chain
Health services: vaccine and medical cold chain
Initiatives may be in ideation or implementation stage and should demonstrate potential for impact in terms of improving affordability and increasing access to sustainable cooling through one or more of the following:
passive and nature-based cooling solutions
renewable-based cooling solutions 
energy-efficient cooling solutions
How can you participate?
Entries may be submitted by individuals or groups of up to 5 individuals, all under 35 years of age.
Preliminary entries submitted by 30 June 2022 will receive additional guidance and support prior to the final submission.
All final entries must be submitted by 26 September 2022 through the Entry Submission Form in English or French.
Three teams will be shortlisted to present live at COP 27 (TBD), where the winner will be announced.
Three teams will receive a cash prize and further support from the competition sponsors.
How do we assess your ideas?
All the submissions would be assessed based on the following criteria. More details to follow.
Goal Alignment
Functionality and Relevance
Outcome and Impact
Scalability and Implementation
What do you win?
Prize: USD 10,000, USD 3,000, USD 2,000 from the Sustainable Cooling for All to support the implementation of the idea
Visibility: Spotlight feature from SEforALL (and partners) as well as exhibition opportunities (e.g., SEforALL Forum)
Incubation support: Coming soon.
#ThisIsCool
Become a supporter of the This Is Cool campaign and encourage organizations and communities to cool more sustainably by spreading the word about sustainable cooling solutions.
Visit site