Electrification: RISE Energy Access vs Business Environment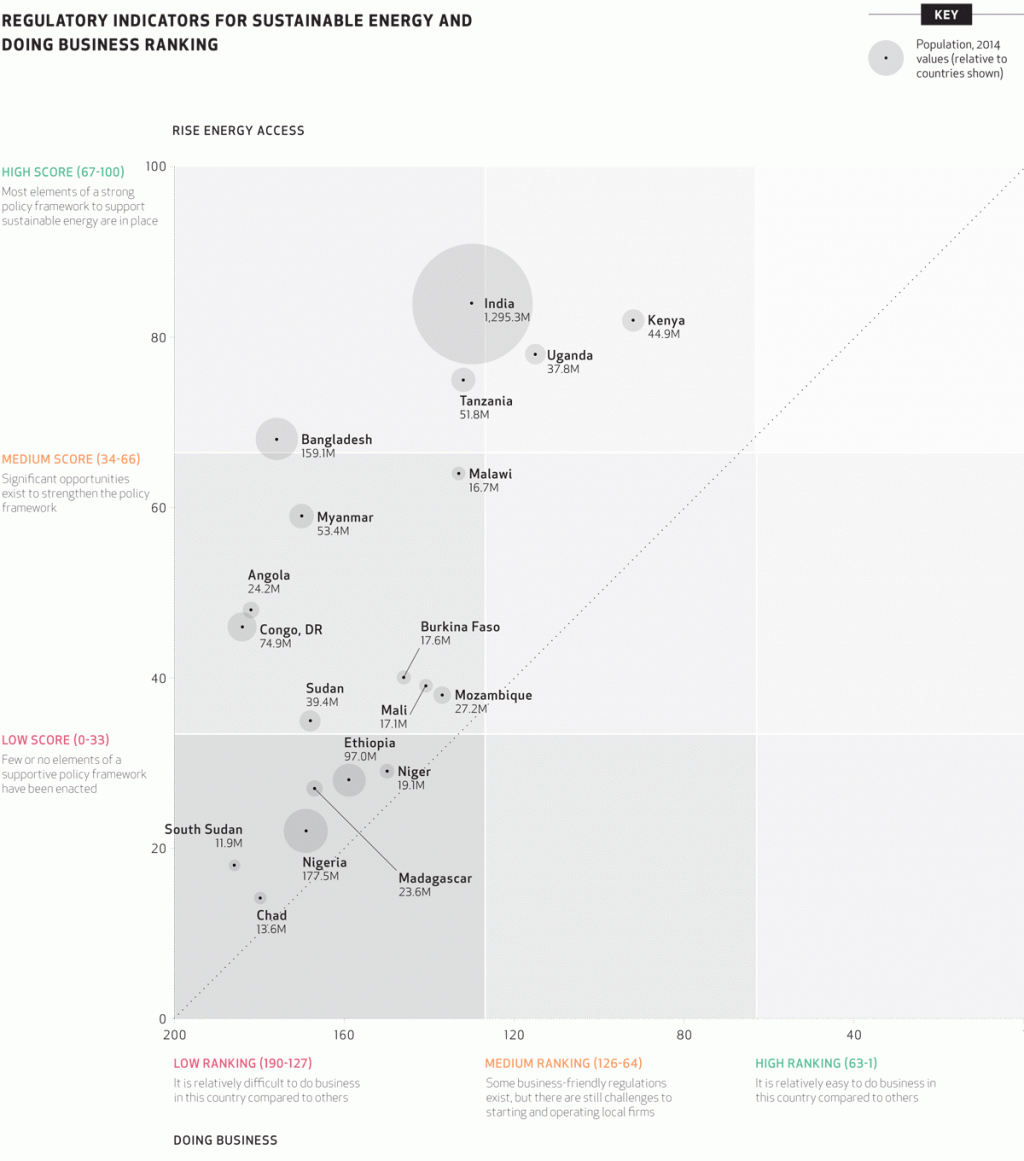 Quick Facts
Of the world's 20 countries with the largest number of people without electricity, only five - Bangladesh, India, Kenya, Tanzania and Uganda - provide comprehensive policy support for energy access according to the Regulatory Indicators for Sustainable Energy (RISE).
Sub-Saharan Africa—the least electrified region with over 600 million people without electricity in 2014—has one of the least developed policy environments to support energy access. This includes, for example, Ethiopia, Nigeria and Sudan, three countries with a consumed unserved population of 116 million in 2014.
Kenya received a high score for energy access in RISE and showed one of the most notable improvements in performance on Doing Business indicators in 2015/16. Kenya streamlined the process of getting electricity by introducing a geographic information system that allows the utility to provide price quotes to customers without conducting a site visit. This reduced the time and interactions needed to obtain an electricity connection as well as its cost. Attractive investment incentives and mini-grid standards have also encouraged private sector engagement.
In India in 2015/16 the utility in Delhi streamlined the connection process for new commercial electricity connections: the time needed to connect commercial consumers to electricity was reduced from 138 days in 2013/14, to 45 days in 2015/16. Connection costs were also reduced from 846 percent of income per capita in 2013/14 to 187 percent in 2015/16.
RISE offers policy makers and investors detailed country- level insights on the policy and regulatory environment for sustainable energy across 111 countries globally.
To enable private sector businesses to start, operate and expand their activities, and eventually deliver clean, affordable and reliable energy, an enabling business environment is required. Doing Business ranks economies from 1-190. A high ease of doing business ranking means the regulatory environment is more conducive to the starting and operation of a local firm.
By looking at how countries perform on RISE and Doing Business, it is possible to get a sense of where progress is needed on the enabling environments to support energy access and energy market development.
Those high-impact countries that score in the upper range on RISE tend to also rank higher on Doing Business, however progress is still needed on the regulatory environment
for businesses.
NOTES: 1. Regulatory Indicators for Sustainable Energy (RISE) is a suite of indicators that assesses the legal and regulatory environment for investment in sustainable energy.
2. 'Electrification plan approved and monitored' refers to the existence and monitoring of officially approved electrification plans.
3. 'Quality of electrification plan' refers to the quality of officially approved electrification plans.
SOURCE: Regulatory Indicators for Sustainable Energy (RISE), World Bank Group, 2017. Data extracted from http://rise.esmap.org/ on 06/23/2017.