SEforALL hosts first working meeting of People-Centered Accelerator, promoting gender equality, social inclusion and women's empowerment
June 29, 2017: Sustainable Energy for All (SEforALL) held its first design meeting for the People-Centered Accelerator in Krafla, Iceland, this week. 
Experts from across the world travelled to Iceland's Landsvirkjun power plant in Krafla to discuss how the Accelerator could support social inclusion, gender equality and women's empowerment in the energy sector.
Participants included investors, NGOs, business and philanthropists from a variety of geographies and backgrounds to support the development of the Accelerator in setting out its core objectives for the next 18 months. The meeting focused on better understanding existing activities, identifying primary beneficiaries for the Accelerator and developing work streams with priority actions.
Rachel Kyte, CEO and Special Representative of the UN Secretary-General for Sustainable Energy for All, said: "The world has committed to leave no one behind. To keep this promise as we move through the energy transition, we need to think differently about how we deliver affordable, reliable and clean energy services to those who are most marginalized. Women must be at the table and the energy sector can manage risk and understand opportunities better with more women at all levels. The energy services of the future, will not resemble the energy system of the past and those who design, deliver and plan them should be diversified."
By working together, partners supporting the Accelerator aim to:
Enhance modern energy access for the very poorest people who will not be reached by business-as-usual approaches.
Increase women's full participation in sustainable energy solutions.
Bring together and strengthen collaboration between local, regional, national and international stakeholders that are active in the energy, gender and social justice sectors.
Help unlock finance from private and public sources.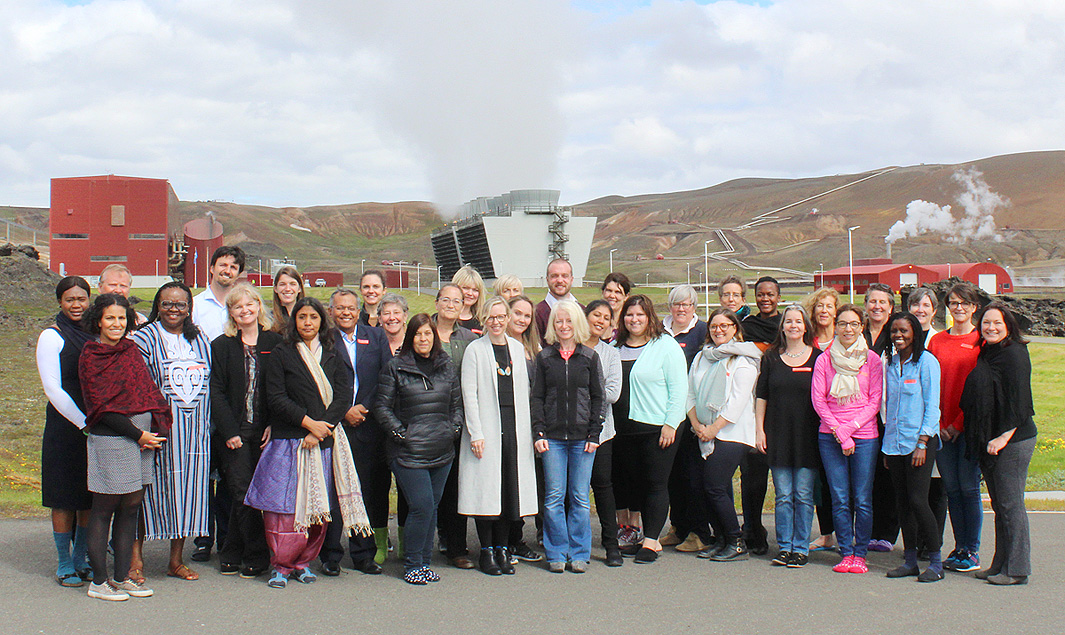 Ragna Árnadóttir, Deputy CEO at Landsvirkjun who hosted the meeting at their geothermal power station, said: "It is an honor for Landsvirkjun to host the workshop for the SEforALL accelerator. The mission of the People-Centred Accelerator - the advancement of gender equality, social inclusion and women's empowerment in the energy sector - is extremely important given that we are now faced with the inevitable transition from fossil fuels to clean energy. It is vital to ensure that one-half of the world's population takes an active part in this transition.
"Landsvirkjun recently announced that as a company we would place special emphasis on three Sustainable Development Goals; affordable and clean energy, climate action and reduced inequalities. This is perfectly in line with the SEforALL mission and we are happy and privileged to play our small part in the advancement of this important cause."
Participation rates of girls and young women in science, technology and mathematics education who become the women in the energy sector workforce, management or on boards of energy services companies, clearly shows the energy sector is behind others in terms of gender balance.
Harpa Pétursdóttir, Founder of Women in Energy – Iceland, shared her experiences of setting up the association, encouraging greater participation of women in the boards of energy companies and throughout their companies. She said: "The first steps of founding the association were the heaviest to take, but when we saw that there were a lot more women in the Icelandic energy sector than we had previously thought and we felt the great interest in the association, both from women and men, the work got easier. Nevertheless, the work ahead of us is a big and challenging task, but we are certain that the sector will benefit from both an economical as well as a social aspect with a more equal ratio of women and men at all levels."
Following the meeting, SEforALL will work with stakeholders to formalize objectives and create an action-orientated work plan with appropriate working arrangements for the Accelerator.  The aim is to formally launch the Accelerator at COP23 in Bonn, Germany later this year.
To learn more, please contact Fiona Messent, Policy Specialist, on Fiona@SEforALL.org.
For any media requests, contact Media@SEforALL.org