UN Climate Action Summit shows energy transition key to curbing climate change, energy poverty
New energy-related announcements from shipping, energy efficiency, clean energy investment and cooling to accelerate progress on climate action
At the UN Climate Action Summit, the focus was on action rather than just speeches.
Ahead of the Summit, UN Secretary-General António Guterres, urged leaders to come with concrete plans for action and commitment, not empty speeches.
In a strong opening, the Secretary-General said there was no time to lose, urging for much greater action: "Science tells us that on our current path, we face at least 3° Celsius of global heating by the end of the century. The climate emergency is a race we are losing, but it is a race we can win."
"This is not a climate talk summit. We have had enough talk," he added. "This is not a climate negotiation summit. You don't negotiate with nature. This is a climate action summit."
To support this call, governments, the private sector and other stakeholders in the energy transition announced several key initiatives at the summit that will support progress on the Sustainable Development Goals (SDGs) and Paris Agreement targets.
The energy transition is crucial within these efforts, which is why strong efforts were made from summit Energy Transition track co-leads – the governments of Denmark and Ethiopia with Sustainable Energy for All (SEforALL) – to advance action and commitments.
Changes to our energy systems must be done in the context of ensuring we meet SDG7: ensuring sustainable energy for all by 2030.
As co-lead, Sahle-Work Zewde, President of Ethiopia, reinforced the need to make faster progress on energy access while supporting climate action, saying:
"Winning the race against climate change is about building prosperity and well-being for everyone. The energy transition is critical not only to meet the Paris Agreement, but to ensure that we 'leave no one behind' in terms of delivering sustainable energy access for those millions who do not have it today – particularly those vulnerable populations across Africa."
Rachel Kyte, CEO and Special Representative of the UN Secretary-General for Sustainable Energy for All, said:
"There is no doubt that the response to the climate emergency is off track today. But this Summit has put climate back at the top of the political agenda and set in motion a series of actions needed by the time of the climate negotiations at the end of 2020. The energy transition is critical to all of this. Decarbonizing energy systems is underway, it won't be easy, but it's possible and it will open up better jobs, better transport, cleaner cities and a more inclusive world."
In the lead up to the summit, SEforALL–working with Denmark, Ethiopia and other stakeholders—supported bringing solutions for decarbonizing the shipping industry, energy efficiency, climate finance and sustainable cooling to the Summit.
By fostering collaboration and marshaling evidence, SEforALL helped guide the development of new coalitions focused on each of the above areas, all of which were announced during the summit.
Highlight announcements from the Energy Transition Track include:
Getting to Zero Coalition
The Getting to Zero Coalition was announced with over 70 public and private partners to help lead the push for shipping's decarbonization with the mutual goal of having commercially viable zero emission vessels operating along deep sea trade routes by 2030.
Members of the Getting to Zero Coalition–a powerful alliance representing senior leaders within the maritime, energy, infrastructure and finance sectors, supported by decision-makers from government and IGOs–announced, that they will lead the push for international shipping's decarbonization.
International shipping carries around 80 percent of global trade and accounts for 2-3 percent of global greenhouse gas emissions annually. Emissions are projected to grow by between 50 and 250 percent by 2050 if no action is taken.
Speaking on the announcement, Søren Skou, CEO of A.P. Møller Mærsk, said, "Energy efficiency has been an important tool which has helped us reduce CO2 emissions per container with 41 percent over the last decade and position ourselves as a leader 10 percent ahead of the industry average."
Read more here.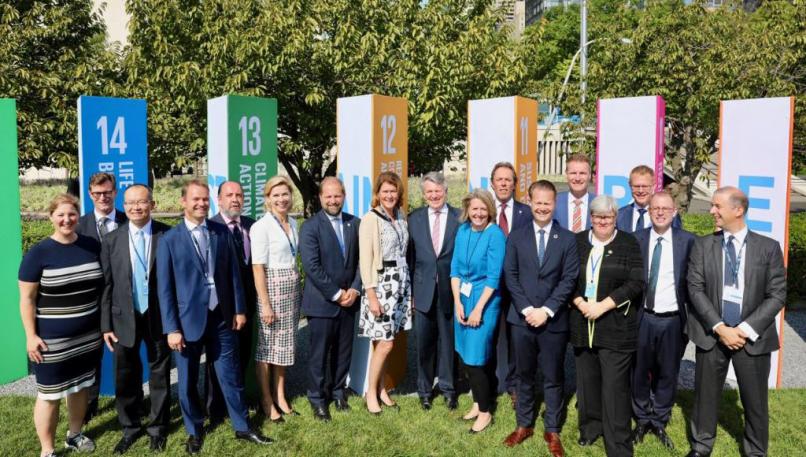 Three Percent Club
A coalition of countries, businesses and institutions—calling themselves the Three Percent Club – are to announce their commitment to a three percent annual global increase in energy efficiency across their economies and businesses, a target necessary to meet global climate goals while enhancing economic prosperity in all countries.
Energy efficiency offers a potential 40 percent of the emission reductions we need to help meet global climate goals, yet only a few countries make specific commitments to improve energy efficiency in their climate plans—the Nationally Determined Contributions to the Paris Agreement. These emissions reductions are achievable with good policy and technologies that are available and cost-effective today.
At its launch, the new Three Percent Club already includes 15 governments and 13 businesses and international organizations, all coming together to help put the world on the necessary path to achieve the required annual energy efficiency improvements to meet the Paris Agreement. Countries that made the pledge at the Summit include Argentina, Colombia, Denmark, Estonia, Ethiopia, Ghana, Honduras, Hungary, India, Ireland, Italy, Kenya, Portugal, Senegal and the United Kingdom.
As part of their commitment, partners will also share and provide technical and financial support. This includes leveraging the combined global resources of Sustainable Energy for All, the SEforALL Energy Efficiency Accelerators, Global Environment Facility, IEA, and Hub, UN Environment, the EBRD, and the EE Global Alliance, to help work in a more ambitious and coordinated manner.
Read more here.
Climate Investment Platform
In response to country needs to mobilize low-carbon, climate-resilient investments, a new global public good will aim to increase the flow of capital in developing countries to meet climate ambitions. Announced by IRENA, SEforALL and UNDP in coordination with Green Climate Fund, the Climate Investment Platform (CIP) is an inclusive partnership welcoming all stakeholders from governments and international organizations to the private sector to scale-up climate action and translate ambitious national climate targets into concrete investments on the ground.
With energy accounting for two thirds of total greenhouse gas emissions, the platform's first service line is dedicated to the global transition to clean energy. Other service lines, such as adaptation, land use, cities and infrastructure will be launched in the first quarter of 2020. By decluttering and streamlining support to developing countries, the platform aims to accelerate action and advance climate investment in developing countries. Progress will be presented at UNFCCC COP 25 in December 2019.
Read more here.
Cool Coalition
The Cool Coalition aims to accelerate the shift to sustainable energy sources for cooling, improve the efficiency of conventional cooling, protect vulnerable populations, and leverage cooperation to achieve a greater collective impact.
According to SEforALL research, over one billion people presently face immediate risks from a lack of cooling, and in a warming planet these number will only increase. Yet cooling actually contributes to heating the planet. By 2050, space cooling alone will consume as much electricity as China and India today and much of the world's projected renewables capacity. But according to the latest research, moving to best available technologies would reduce cumulative emissions by of 38 to 60 gigatonnes of CO2 by 2030.
The challenge of sustainable cooling is at the intersection of three internationally agreed goals: the Paris Agreement, the SDGs and the Montreal Protocol's Kigali Amendment. At the Summit, we saw several announcements in response to this challenge:
26 countries, such as Bangladesh and Lebanon, will adopt comprehensive national cooling plans.

Electrolux, Danfoss and Mabe will publicly release corporate plans by the end of 2019 for switching to lower global warming potential refrigerants in all their cooling product lines.

New model regulation guidelines for refrigerating appliances and room air conditioners are being released to jumpstart the adoption of robust energy efficiency and refrigerant gas requirements. If ambitious levels are pursued throughout Africa, alone, annual estimated impacts starting in 2030 would be savings of 40 terrawatt hours of electricity (equivalent to almost 20 large power plants), mitigation of 28 million tonnes of CO2, and $3.5 billion in electricity bill savings for consumers.

The World Bank Group and the Green Climate Fund are integrating clean and efficient cooling across their lending/investment portfolios.

The Children's Investment Fund Foundation (CIFF) has pledged an additional $20 million in funding for cooling, bringing funding committed by donors through the Kigali Cooling Efficiency Platform (K-CEP) to over $60 million.
Find out more here.