Women Rising Up on Sustainable Energy and Ending Energy Poverty
BONN, Germany – If we're serious about ending energy poverty for the world's most marginalized populations, more women need to be involved. Lots of them. Throughout the energy value chain. And they need financial support, too.
That's the genesis for yesterday's groundbreaking launch of the People-Centered Accelerator, a global initiative that aims to advance gender equality, social inclusion and women's empowerment in sustainable energy. The effort, announced on Gender Day at the UN Climate Change Conference (COP23), is being led by Sustainable Energy for All and more than 40 partners from government, civil society, private sector, finance and non-government organizations from across the world.
"We created the People-Centered Accelerator because in the energy transition, no one should be left behind," said Rachel Kyte, Special Representative of the UN-Secretary General and CEO, Sustainable Energy for All, in launching the Accelerator. "By having better data, by working together, by pushing for more energy finance, we can have a big impact on energy access for those who need it the most."
The vast challenge – and huge opportunity – in elevating women's role in the sustainable energy future was clear all around the COP23 Bonn Zone. (The Bula Zone, where the diplomats are working away in the climate negotiations, is far more male dominated.)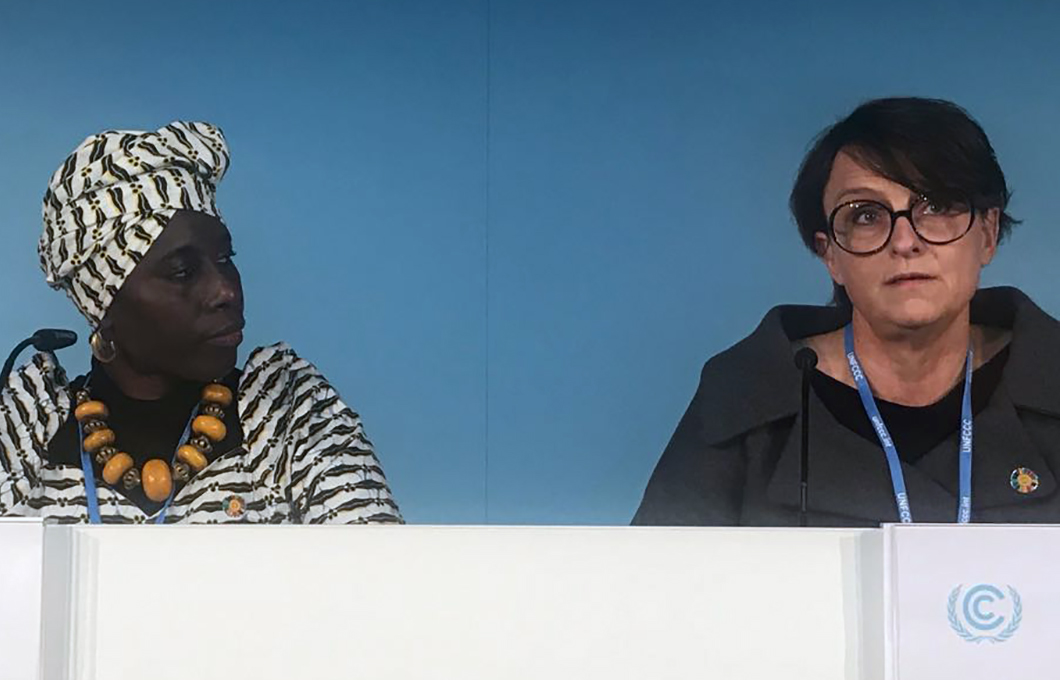 High level discussion. Left to Right: Sheila Oparaocha, International Coordinator and Program Manager, ENERGIA, Ragna Árnadóttir, Deputy Chief Executive Officer, Landsvirkjun
One telling example of the challenges women face is in northern Kenya. This region is home to the continent's largest wind power plant, yet none of the electricity will be going to remote communities where the power is being generated. "These big transmission lines just pass by. Not a single house in these villages will get electricity," said Agnes Leina, executive director and founder of the II'laramatak Community Concerns in Kenya. By lacking electricity, she said, Samburu and Turkana women in these villages rely on high-polluting kerosene, paraffin and wood for cooking and other needs. They also scramble to feed their children.
Other challenges that were mentioned over the past two days:
Women have an important role in Uganda's agrarian economy, yet only 20 percent of women listen to weather forecasts on the radio, compared to 80 percent of men.
In Pakistan, 50 percent of university graduates are women, yet only 10 percent of them enter the workforce.
Analysis undertaken by the IUCN-Global Gender Office found that globally, only one-third of the 192 national energy frameworks in 137 countries include gender considerations.
But we also heard about the vast potential for women transforming the world with sustainable energy – and leaving no one behind in doing so.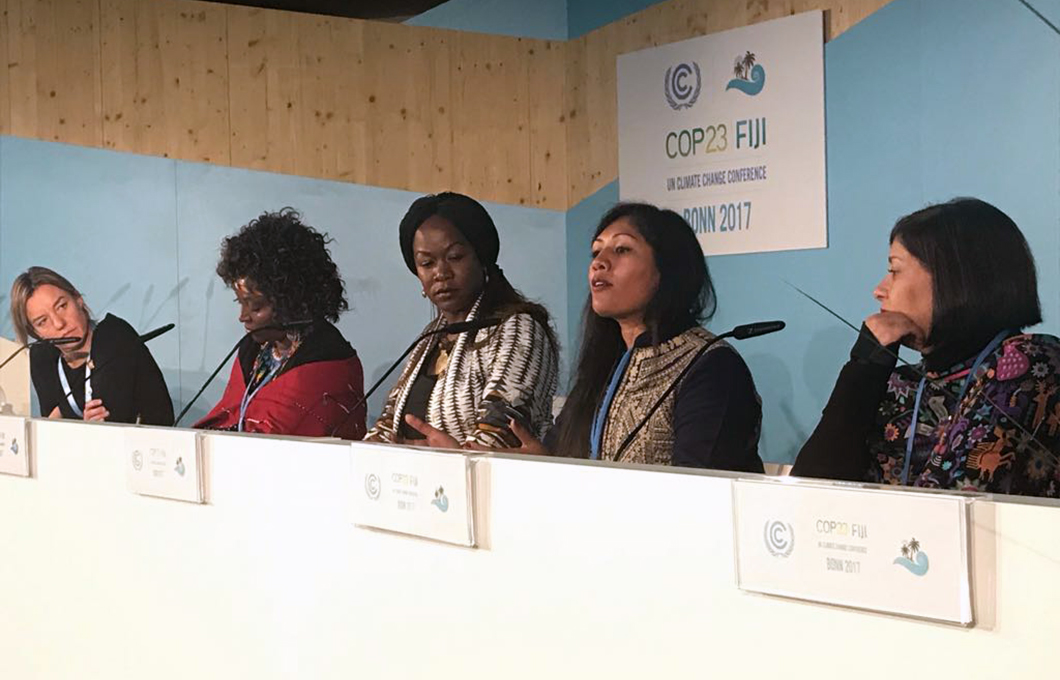 Left to Right: Tara Shine, Special Adviser, Mary Robinson Foundation – Climate Justice, Agnes Leina, Executive Director and founder of Il'laramatak Community Concerns, Linda Davis, Director of Partnerships, wPower Hub, Ajaita Shah, Founder and CEO, Frontier Markets, Lorena Aguilar, Global Senior Gender Adviser-IUCN
In India, Ajaita Shah has 1,000 women "Solar Sahelis' fanning across 'last-mile' parts of India selling solar lanterns, solar sewing machines and other solar products. "(By 2020), we have a mission of having 10,000 of these rock-star entrepreneurs and reaching millions of households," said Shah, founder and CEO of Frontier Markets and an Accelerator partner. Her company is also one of the first social enterprises to break even.
In Africa, a global women's advocacy network, ENERGIA, is supporting 4,000 women energy entrepreneurs who have reached 2.5 million 'last-mile' consumers with clean energy products. "Business-as-usual models failed to help the poorest communities, especially women and children," Sheila Oparaocha, ENERGIA's International Coordinator and Program Manager, said matter-of-factly.
One of ENERGIA's most effective understand-your-client innovations, she said, is requiring that meetings concerning 'last-mile' energy access be held in those communities – but only after 6 p.m. when it's totally dark since there is no electricity. "The only light at the meetings is from women's mobile phones," she said.
 To help support the Accelerator's future work, SEforALL announced a new report yesterday mapping efforts that are already working to end energy poverty and advance clean energy by empowering women and promoting gender equality and social inclusion. The report, Opening Doors: Mapping the Landscape for Sustainable Energy, Gender Diversity and Social Inclusion, identifies 174 projects that are underway globally supporting women and marginalized groups in sustainable energy. A key focus for the report is the 45 countries that are most critical to achieve the Sustainable Development Goal 7 targets, which call for universal access to sustainable energy services by 2030. "It's a great start in understanding the landscape," said Susan Gibbs, Philanthropic Adviser of the Wallace Global Fund, which helped support the Opening Doors report.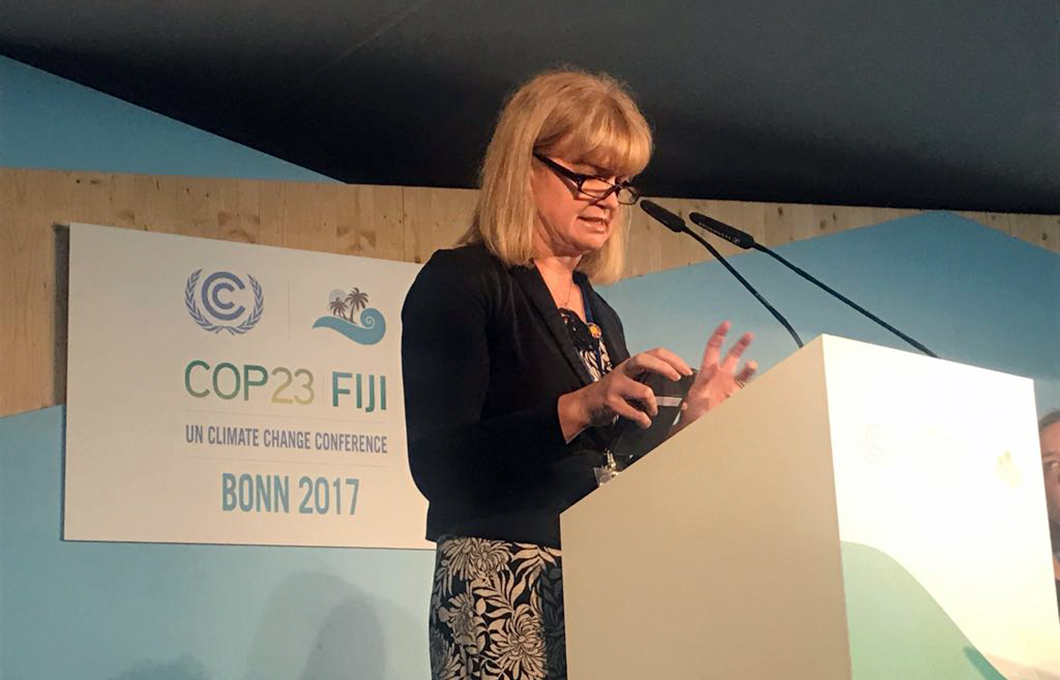 Closing Remarks. Fleur Newman, Program Officer and Gender Focal Point, United Nations Framework Convention on Climate Change
Among the report's key takeaways: gender-responsive and socially inclusive energy businesses lack access to capital. "It's been very difficult to access the right kind of patient capital at the right time," Shah said, echoing a theme that was raised repeatedly by women energy entrepreneurs at COP23. "Donors are a key part of the Accelerator - they have a role to play not just via their checkbooks, they are supporting impact investments and convening."
Tackling this challenge will be a top priority in the Accelerator's future work to ensure we go further, faster - together.
Learn more about the People-Centered Accelerator here and follow #SDG7AllEqual for more.