Chilling Prospects 2022: Protecting medicines and vaccines through data analytics across the cold chain

A decade ago, Nexleaf deployed the first ColdTrace sensor devices on vaccine fridges in rural clinics, bringing the same type of technology and data visibility that was already protecting high-value national vaccine stores to small health facilities in remote locations. This technology — remote temperature monitoring, or RTM — was initially viewed by many in the sector as too high-tech, too specialized and too costly for rural settings. However, thanks to data provided by Ministries of Health personnel, ColdTrace has expanded beyond the pilot phase and achieved large-scale distribution since 2018 to ensure effective cooling across the entire vaccine cold chain. 
Gathering real-time and continuous temperature data
What we have learned in recent years is that when countries can see into their cold chain, decision-makers at all levels of the health system have a shared, objective understanding of cold chain performance. They can make informed decisions around planning, procurement and maintenance, and most importantly, they are better equipped to keep vaccines safe and potent. RTM devices automatically gather real-time, objective and continuous temperature data from vaccine storage and transport equipment, share those data with multiple stakeholders, and automate alerts and dashboard analytics that synthesize and contextualize the data.
The system saves health workers time by automatically and remotely collecting data, and it eliminates opportunities for human-prone errors from paper-based systems. It also provides a cost-effective and customizable way for countries to own their data, identify problems, procure and maintain equipment, and maximize their capacity for safely refrigerating their vaccine supplies.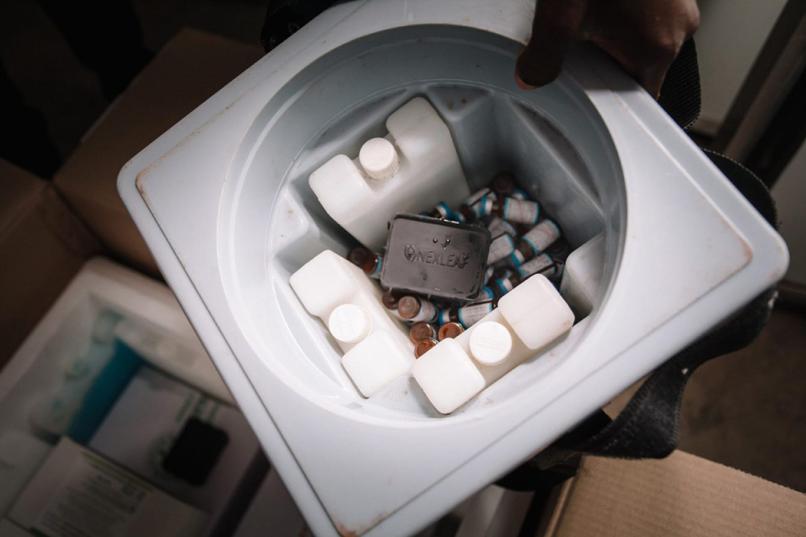 ColdTrace currently protects vaccines for one in ten babies born around the world every year. The system has been shown to reduce damage to vaccines by heat and cold by 68 percent and 67 percent, respectively. Helping countries avoid vaccine degradation due to temperature exposure — high or low — reduces waste and ensures effective immunization, ultimately reducing outbreaks of disease. 
Kenya and Tanzania are currently partnering with Nexleaf to get the right data to the right people at the right time, providing Ministry of Health personnel with the information they need to keep their fleet of vaccine fridges and transport carriers up and running. In December 2021, staff at a district vaccine store (DVS) in Tanzania received SMS alerts concerning a couple of faulty fridges and after looking at the data analytics, it was clear there had been a power outage. These data prompted a fast response from the DVS staff and power company who were able to resolve the issue within a few days, restoring reliable cooling to a store that plays a critical role in assuring the safety of thousands of vaccines distributed to local facilities. 
Tracking COVID-19 vaccines in Kenya
This real-time visibility into cold chain performance took on an even greater significance in early 2021 when countries started receiving thousands of doses of COVID-19 vaccines; Nexleaf's work in remote temperature monitoring during transportation was well underway when the Kenya Ministry of Health requested sensor devices to monitor its valuable Pfizer and Moderna COVID-19 vaccines to ensure they stayed safe. So far, Nexleaf's battery-powered and Bluetooth-enabled Trek device has been used to monitor all the transport routes of Pfizer (795,600 doses) and Moderna (880,000+ doses) vaccines that have been transported from the central vaccine store to the nine regional vaccine stores throughout Kenya.
The data collected via Trek are shared with health workers to show how the vaccines fared throughout the journey, providing evidence that vaccines are still potent and will protect the population effectively. The data are also organized into various visualizations that Ministry personnel can use to evaluate which vaccine distribution events maintained safe temperatures most effectively. These analytics have allowed for evidence-based discussions around the vaccine cold chain, not only for COVID-19 vaccines, but all childhood vaccines. With very clear protocols around vaccine temperature requirements and vaccine viability, health workers can use Trek data to make informed decisions rather than relying on guesswork, dispose of spoiled vaccines, and take steps to protect vaccines before they lose potency. 
Key to the value of remote temperature monitoring is the remote and automated nature of the data the system gathers. Using sensors to log and upload temperature and power availability data, the system eliminates error-prone manual data entry and enables push-button time-series data visualization. It can also provide insight into health facility power capacity, revealing how many hours of grid power flow to the facility, or whether a solar-battery system is functioning properly. Trek provides GPS route data that can give planners visibility into the locations and timing of problems that hinder efficient vaccine delivery.
As we look to the future, we believe the key to total system improvement lies in full end-to-end RTM at every storage point and transport leg of the vaccine cold chain. By 2025, we hope to see end-to-end RTM implemented in three low- and middle-income countries (LMICs), generating critical data to safeguard vaccines.
Our most crucial measure of success, however, is seeing evidence that the central Ministry of Health, health workers and personnel at every level are using data gathered by the system to guide their actions in their day-to-day work as well as in their country-wide cold chain planning, procurement and management. We also believe that the system will achieve its maximum utility when power availability and Trek route data can be leveraged effectively to provide benefits to planners beyond vaccine management, as more lifesaving equipment (such as oxygen concentrators) and critical medicines (such as insulin) are deployed to more and more remote clinics.