Renewables: RISE Indicators for Renewable Energy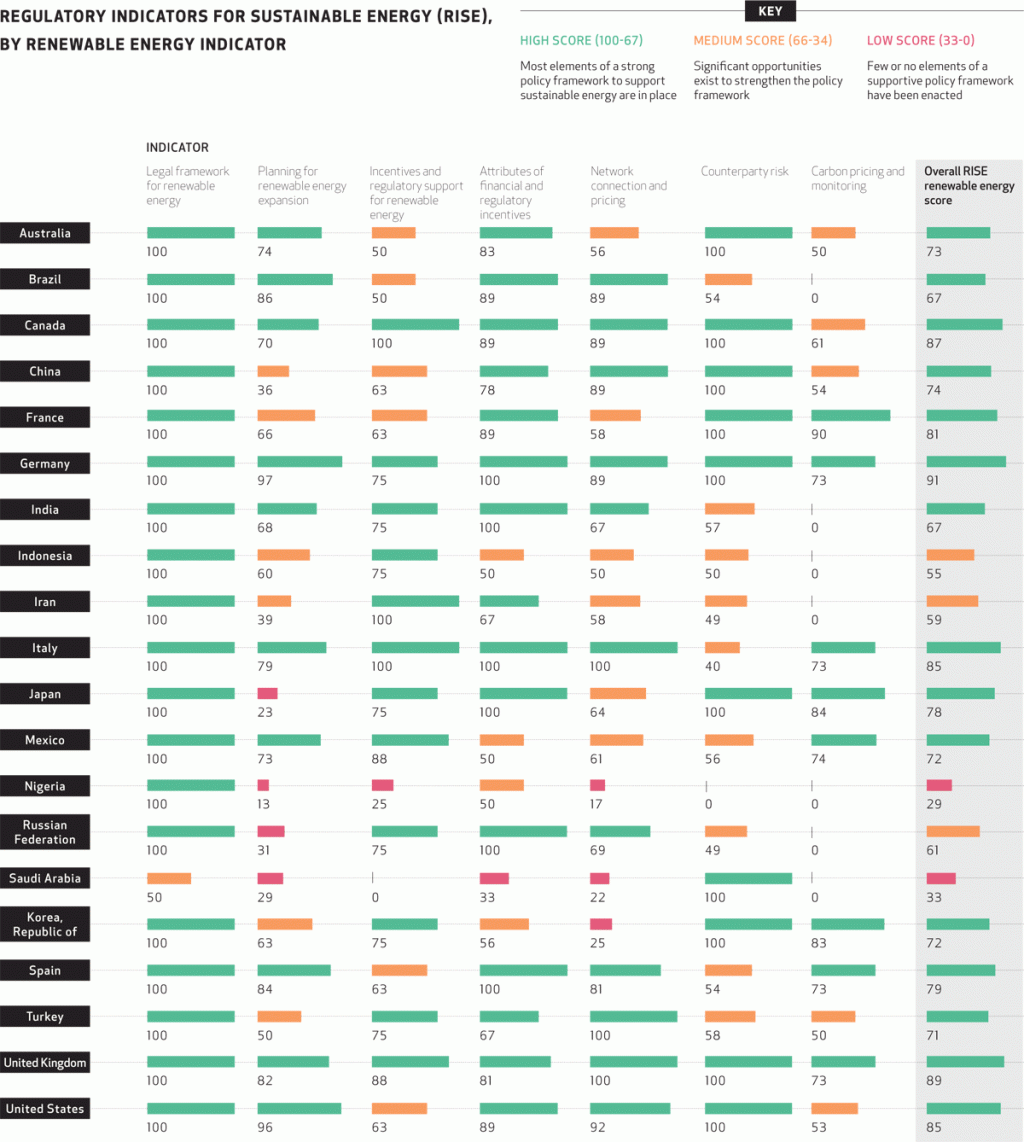 Quick Facts
About three quarters of the 111 countries covered in Regulatory Indicators for Sustainable Energy (RISE) have adopted legislation and strategic plans governing the renewable energy sector and assigned responsible institutions to achieve them. However, primary legislation is less common in Sub-Saharan Africa, North Africa and the Middle East.




While a strong enabling environment alone does not guarantee investment flows at scale, countries that have developed sizeable renewable energy capacity (above 100 MW) tend to have stronger legislation in place.
Thirty eight percent of countries covered by RISE have conducted an integration study to understand how to bring variable renewable energy into the grid. Germany, the United States, Spain and the United Kingdom feature some of the most advanced renewable energy integration frameworks.
The number of procedures necessary to set up a grid- connected renewable energy facility ranges from two in the Netherlands to 17 in the Russian Federation.
RISE offers policy makers and investors detailed country- level insights on the policy and regulatory environment for sustainable energy across 111 countries globally.
 Many important elements of policy support for renewable energy are common across all regions and incomes, including renewable energy targets and action plans, primary legislation and legal private ownership of generation, and financial and regulatory incentives like feed-in tariffs or competitive tenders.
 Technically sophisticated studies, such as those needed to evaluate the integration of variable renewable energy capacity in the grid, are becoming more important as the share of renewable capacity grows in the power mix.
NOTE: Regulatory Indicators for Sustainable Energy (RISE) is a suite of indicators that assesses the legal and regulatory environment for investment in sustainable energy. 
SOURCE:Regulatory Indicators for Sustainable Energy (RISE), World Bank Group, 2017. Data extracted from http://rise.esmap.org/ on 06/23/2017.