Three finalists to compete for best SDG7 innovation at SEforALL Youth Summit
The Troubleshooting for SDG7 innovation competition taking place on 10 February at 9:00 ET/ 15:00 CET will be a major feature of the second day of the Sustainable Energy for All (SEforALL) Youth Summit, being held 9-11 February 2021. This session will feature opening remarks from SEforALL's Sustainable Cooling for All youth expert, Sejla Mehic.
SEforALL received 133 proposals from representatives of 42 countries, and three finalists have been identified by a panel of judges. The winner will receive USD 2,500 funding to support their intervention and all three finalists will be showcased by the Summit's partners in the coming months. SEforALL will also work with the finalists to help ensure that youth perspectives feed into the UN High-Level Dialogue on Energy in September 2021.
The call for proposals asked youth: What is your proposed technology or policy initiative to accelerate achievement of SDG7 in the Decade of Action? Additional consideration was given to proposals considering energy's role in supporting cold chains for optimal COVID-19 vaccine distribution.
The three chosen finalists are Triomphant Tchulang from Cameroon; Adekoyejo Kuye, Uzochukwu Mbamalu, Charles Aliozo and Chigozie Enemoh from Nigeria (team submission); and Xiangkun Cao from China.
Here we profile the finalists' ideas, and they tell us why youth should care about SDG7.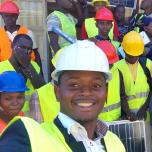 ​​​​​​​Triomphant Tchulang
Triomphant Tchulang is a renewable energy engineer from Cameroon. He is the founder and CEO of Clean Energy Services, a startup that advocates and works towards the achievement of Sustainable Development Goals, in particular SDG7.
SDG7 innovation: Solar refrigerator that integrates both photovoltaic and thermal energy, allowing it to operate 24 hours a day without the use of batteries for storage, at the necessary temperature for food, pharmaceuticals and especially sensitive vaccines.
Why should youth care about SDG7? 
"The future of today's planet is in the hands of young people, [and] access to clean and affordable energy is a challenge. We must develop sustainable green solutions to protect our precious living space from the effects of climate change caused by fossil fuels. [Young] people have the energy, the responsibility and the strength to make it happen."
Adekoyejo Kuye, Uzochukwu Mbamalu, Charles Aliozo and Chigozie Enemoh
Adekoyejo Kuye, Uzochukwu Mbamalu, Charles Aliozo and Chigozie Enemoh are from Nigeria. The team works for Manamuz Electric LTD where they focus on smallholder farmers by building an efficient solar power cold chain network for farmers, to mitigate the problem of food spoilage and post-harvest losses.
SDG7 innovation: Solar powered cold storage using one compressor for multiple applications (precooling, cold storage and charging a cold thermal storage) and providing refrigeration as a service. The target is smallholder farmers for food cool chains, with the possibility to extend to vaccine cold chains.
Why should youth care about SDG7? 
"If youth don't care and act to bring about SDG7, we will be the ones to bear the negative impacts in the near future. We have what it takes to bring about change—all we have to do is take action."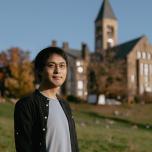 Xiangkun (Elvis) Cao is from China and has received many accolades for his work on converting CO2 to sustainable fuels and feedstocks using solar energy.
SDG7 innovation: "Building C2X" utilizes solar energy to convert CO2 emissions into useful products such as ethanol, which is a renewable fuel and can be used for producing hand sanitizer.
Why should youth care about SDG7?
"Young people should care about SDG7 since they will be able to witness the transition away from fossil fuels to renewables during their career, since seven of the ten largest economies in the world (not including America, India and Brazil) have announced major commitments to significantly cut their carbon emissions, promising to reach "net zero" in the coming years. One of the biggest issues with the conversation around sustainability, however, is that there is little mention of the economic benefits."
---
Interested participants are requested to register for the SEforALL Youth Summit here. Meanwhile, registered participants are encouraged to explore the Summit platform where the list of sessions, speakers, networking opportunities and virtual fairs are already available.