1 in 7 people globally currently at high risk due to lack of access to cooling
These numbers are set to rise by 2030 without action to achieve universal electrification and end extreme poverty.
Sustainable Energy for All's new report Chilling Prospects reveals the escalating threat from lack of access to cooling on people's ability to survive extreme heat, and warns that this is the decisive decade to deliver fast and sustainable cooling solutions.
Urgent action and investment needed to protect the 1.2 billion people most at risk from extreme heat and a lack of access to cold chains.
Access to cooling is the linchpin to enable global food security and storage of medical supplies, protect livelihoods, and reduce heat-related deaths.
Achieving SDG 7.1.1 (electrification) and SDG 1.1 (extreme poverty eradication) alone enables solutions that would spare nearly a half billion people from high risk of extreme heat by 2030—reducing the overall number of those at high risk by 36 percent.
How cooling needs are met this decade—how fast and with which solutions—will be decisive for delivering just, inclusive clean energy transitions, adapting to a warming climate, and keeping the UN Sustainable Development Goals (SDGs) within reach.
KIGALI, Rwanda, May 17, 2022—Access to cooling is now recognized as an urgent global challenge with 1.2 billion people facing extreme and potentially fatal risk from heat. 
Sustainable Energy for All (SEforALL)'s annual report Chilling Prospects: Tracking Sustainable Cooling for All 2022 shows that the risks to the most vulnerable from extreme heat are growing because of a lack of access to sustainable cooling. People will remain at high risk if we fail to meet key SDGs that enable access to cooling: universal electrification and eradicating extreme poverty. 
Urgent action on cooling could protect nearly half a billion people
SEforALL is an international organization that works in partnership with the United Nations (UN), leaders in government, and others, to drive faster action on access to energy. Its Chilling Prospects report assessed 76 countries with cooling access challenges and found that, globally, 1.2 billion people do not have adequate access to cooling—threatening their ability to survive extreme heat, store nutritious food, or receive a safe vaccine. For the first time, Chilling Prospects forecasts access to cooling risks in 2030. It finds that current trends will leave more people at high risk at the end of the decade, but a pathway that delivers universal electricity access and ends extreme poverty by 2030 would reduce the number of people at high risk by 36 percent, or more than 450 million people.
Launched during a joint event with UNEP-led Cool Coalition the SEforALL Forum in Kigali, home to the Africa Centre of Excellence for Sustainable Cooling and Cold Chain, the report is a stark reminder that for millions of people, daily life cannot stop when temperatures hit heatwave levels. For those living below the poverty line or without access to reliable, affordable, and sustainable energy, their ability to adapt and thrive is held back without access to cooling. 
Damilola Ogunbiyi, CEO and Special Representative of the UN Secretary-General for SEforALL, said: "Cooling is a make-or-break issue for the Sustainable Development Goals and the environment. With one in every seven people at risk from life-threatening temperatures or broken cold chains, neither people nor the planet can afford inaction on sustainable cooling."

Dr Jeanne d'Arc Mujawamariya, Minister of Environment, Republic of Rwanda added: "Chilling Prospects once again provides exciting insights on major sustainable cooling developments. I am proud to showcase Rwanda's innovative financing for consumers coupled with ambitions regulations for cooling appliances, as well as the comprehensive work of the Africa Centre of Excellence for Sustainable Cooling and Cold-chain that is headquartered in Kigali and pan-African in scope."
Disproportionate risk across the Global South and its megacities
Life on a warming planet means more extreme weather and a greater likelihood of devastating heat waves. In 2014, the World Health Organization predicted that 12,000 people would lose their lives annually due to heatwaves. Eight years on, we know the scale of the challenge is greater: new research for the Lancet shows that extreme heat caused the deaths of 356,000 people in 2019 alone.  
As confirmed by the latest Intergovernmental Panel on Climate Change (IPCC) report on Adaptation, the risks of heat extremes are even higher in cities. By 2050, 68% of the global population is expected to live in urban areas, with the number of megacities exceeding 10 million inhabitants expected to reach 43—many of these in developing regions. [1] In rapidly growing urban areas in Asia, Africa and Latin America, vulnerability for poor households is aggravated by air pollution, the urban heat island effect, limited access to good-quality built environment and key cooling infrastructure. 
Inger Andersen, Executive Director of the United Nations Environment Programme (UNEP), said: "We need everybody acting under one vision to decarbonize the cooling sector by 2050. A vision of a world in which we keep our planet, homes and workplaces cool by combining the right technologies with the power of the natural world." 
The risk is increasingly disproportionate, putting communities and individuals suffering from extreme poverty, who already struggle with access to nutritious food and adequate healthcare, most at risk from a lack of access to cooling. Solving the problem is an economic, environmental, and social challenge.  

But solutions exist:
Across the Global South, powering health facilities with off-grid renewable energy and boosting efficiency of off-grid appliances would deliver reliable and cost-effective cooling in countries with electricity access gaps, but investment is needed now to realize this by 2030.
Nature-based solutions such as tree planting help green urban areas and increase access to shade. 
Technology-based solutions such as affordable, hyper-efficient air conditioners, well-designed buildings, and district cooling systems.
Investment to achieve the Sustainable Development Goals will save lives
Such solutions are vital to reach the UN's SDG 7: Access to Affordable and Clean Energy, and investment and commitment is needed now. 

The SDGs are a set of 17 goals and 169 targets to wipe out poverty, fight inequality, and tackle climate change; they were adopted shortly before the Paris Agreement—the international treaty on climate change that aims to limit global warming to 1.5°C. They must be rolled out rapidly and at scale to save lives, but they must also be delivered in a sustainable way that ensures solutions - including for cooling - do not increase emissions, and therefore temperatures. 

Brian Dean, Head of Energy Efficiency and Cooling at SEforALL, highlighted the need to move swiftly on cooling solutions powered by sustainable energy sources: "Accelerating efficient and renewable-powered sustainable cooling devices and deploying passive and nature-based solutions to reduce need for active cooling will play a major role in decarbonizing the cooling sector and achieving SDG 7 by 2030."
Damilola Ogunbiyi added: "The data shows that business as usual means there will be more vulnerable people by 2030, making our efforts to deliver SDG 7 and the Paris Agreement more challenging. In a warming world, both equitable economies and just, inclusive clean energy transitions rely on rapidly delivering sustainable cooling for all.
 
"We also need to rapidly shift to sustainable technologies, so access to cooling does not worsen global climate change. The good news is, many solutions already exist today to reduce risk, improve lives, and reduce emissions. And if we achieve universal electrification and end poverty by 2030, we will relieve almost 450 million people from extreme risks to their health and safety due to a lack of access to cooling. We must all commit to urgent action."
For further details on the report or any interview requests, please contact: 
Gabriella Smith: gabriella.smith@greenhouse.agency
Mollie Atherton: mollie.atherton@greenhouse.agency
---
NOTES TO EDITORS
The report will go live on 17 May here. 
What cooling means for poverty and food security
Spotlight on rural farming and cold chains
Recent heatwaves across India and Pakistan brought blistering temperatures of up to 50°C together with widespread power cuts.
Extreme poverty (defined by the World Bank as those living on less than USD$1.90 per day) compounds cooling access risks for already marginalized rural and urban dwellers.
Rural populations across the globe are getting poorer and have fewer options available to them. For example, rural poor communities now make up 36% of the Indian population and while electricity access is at almost 100%, ownership of cooling devices is low. With a population of 1.4 billion, the country has just 162 million refrigerators. 
Many of those in rural poverty engage in subsistence farming and lack access to refrigeration. For small-scale commercial farmers in rural settings, a lack of access to an intact cold chain prevents them from selling their products further afield at a higher price. 
An estimated 13% of all food production is lost due to a lack of cold chain infrastructure. [2]
Lack of access to reliable, affordable, and sustainable cold chains is a contributory factor to food loss. In high-impact countries, India loses 17% of its perishable foods, and China almost 50%. 
What cooling means for health
Spotlight on vaccines and diseases 
Vaccines must typically have consistent cold storage between 2°C and 8°C to maintain their efficacy. Some vaccines also require ultra-cold chain (UCC) storage of -20°C to -70°C for initial storage, as was the case for some COVID-19 vaccines.
Blood, insulin, and some medicines also require cooling, with blood storage requiring temperatures between 2°C and 6°C, and fresh frozen plasma needing below -30°C.
Among 57 countries eligible for vaccine support from the Vaccine Alliance (GAVI), up to 90% of health facilities did not have access to reliable cold chain equipment that could guarantee vaccine safety and efficacy, and 20% did not have access to cold chain equipment at all.
Solutions and case studies
Solutions: Friendship Hospital Shyamnagar
Passive solutions, such as natural ventilation and shading, can help meet cooling needs and minimize energy demand in health centers. For example, the Friendship Hospital Shyamnagar, a small facility in the coastal district of Satkhira in south-western Bangladesh, was awarded as "best building in the world" in 2021 by the Royal Institute of British Architects thanks to its climate-conscious design: the hospital's buildings take advantage of wind to encourage cross-ventilation and ensure shading from direct sun while also maximizing natural light. As a result, the need for air-conditioning is limited to operating theaters and delivery rooms.

Solutions: Changi General Hospital

Nature-based solutions, such as trees and water, can reduce temperatures in health facilities, improving care and lowering energy needs. In Singapore, the Changi General Hospital installed a garden on the roof, and together with water features and energy-efficient cooling devices and techniques, saved the facility USD 800,000 in annual energy and water costs. Without consideration of these types of solutions, health centers can become heat sinks that require resources to pay for energy that can otherwise be directed to better care.
Solutions: Fair Cooling Fund
Funding solutions are also vital. The Fair Cooling Fund—from climate solutions charity Ashden, backed by K-CEP—widens access to affordable, sustainable cooling among those most at risk from extreme heat. A USD$100,000 grant to agritech startup Ecozen brought three portable solar-powered cold rooms to farmers in Mahabaleshwar, India's strawberry capital, which produces 85% of the country's strawberries. The cold rooms allowed small-scale farmers without the savings to invest in large cooling solutions to reach areas of demand rather than discarding fruit. Farmer Amar Chowdhary said, "Now we don't depend on the Mumbai market. That keeps going up and down, whereas Ecozen ensures the price of strawberries at the time of delivery. I have gained at least 20 Rupees per kg this season."
SEforALL Kigali Forum
This week in Kigali, we will celebrate the Africa Centre of Excellence for Sustainable Cooling and Cold Chain in parallel to the SEforALL Forum. This first-of-kind Centre aims to address cooling access challenges identified in Chilling Prospects by accelerating the uptake of sustainable cooling and cold chain solutions in the agriculture and health sectors in Africa. Its establishment in Kigali also reflects the continued leadership of the Government of Rwanda on sustainable cooling, both domestically and internationally. 

The following criteria were used to determine socio-economic groups in the countries analyzed:
Global access to cooling population at risk (for 54-high impact countries and 22 countries not considered high impact)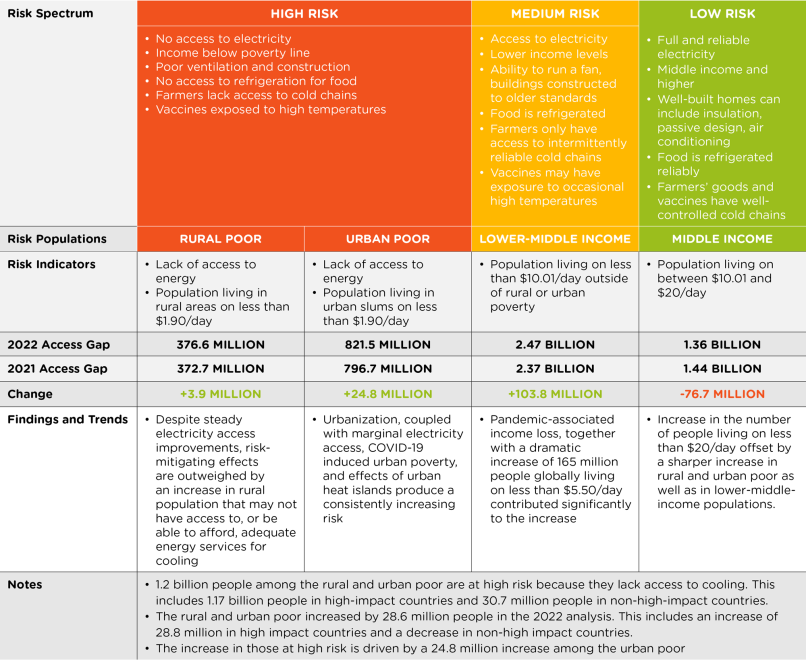 About Sustainable Energy for All
Sustainable Energy for All (SEforALL) is an international organization that works in partnership with the United Nations and leaders in government, the private sector, financial institutions, civil society, and philanthropies to drive faster action towards the achievement of Sustainable Development Goal 7 (SDG7)—access to affordable, reliable, sustainable, and modern energy for all by 2030—in line with the Paris Agreement on climate.
For more information, follow @SEforALLorg

SEforALL partners contributed to Chilling Prospects with their views on what needs to happen by 2025 to start making this a reality. These include: 
Cool Coalition
The Cool Coalition is a global multi-stakeholder network that connects a wide range of key actors from government, cities, international organizations, businesses, finance, academia, and civil society groups to facilitate knowledge exchange, advocacy, and joint action towards a rapid global transition to efficient and climate-friendly cooling. The Cool Coalition is now working with over 100 partners, including 23 countries.

ACES
ACES is a first-of-kind Centre dedicated to sustainable cooling, cold-chain, and post-harvest management. It is hosted by the University of Rwanda in Kigali with Specialized Outreach and Knowledge Establishments (SPOKEs) being rolled out throughout Africa to deploy ACES solutions in real-world settings; the first of these is in Kenya.  The permanent Centre is developed by the Governments of Rwanda and the United Kingdom (UK), the United Nations Environment Programme and the UK's Centre for Sustainable Cooling leading a consortium of leading UK universities with more than $20M of seed investment committed by governments and industry.
Clean Cooling Collaborative
K-CEP has recently reinvented itself as the Clean Cooling Collaborative and shifted the focus of its work to maximize its impact over the coming years. With a goal of delivering energy-efficient, climate-friendly cooling for all for 2050, the Clean Cooling Collaborative is committed to securing the necessary transformation within the sector to provide people with access to the cooling they need in a rapidly warming world, in a way that minimizes energy use and greenhouse gas emissions in the most cost-effective way possible.
Arsht-Rock
Since 2019, the Adrienne Arsht-Rockefeller Foundation Resilience Center at the Atlantic Council (Arsht-Rock) has emerged as one of the central actors tackling challenges posed by extreme heat. This includes partnerships to close the awareness gap with pilot the first-ever heat warning system, the 'Heat Season' framework, and creating the roles of municipal Chief Heat Health Officers whose job is to wake up every day thinking about heat.
---
Notes and references
[1] https://www.un.org/development/desa/en/news/population/2018-revision-of-world-urbanization-prospects.html 
[2] Source: IIR – International Institute of Refrigeration "The Role of Refrigeration in Worldwide Nutrition", March 2022