Renewables: RISE Renewable Energy vs Business Environment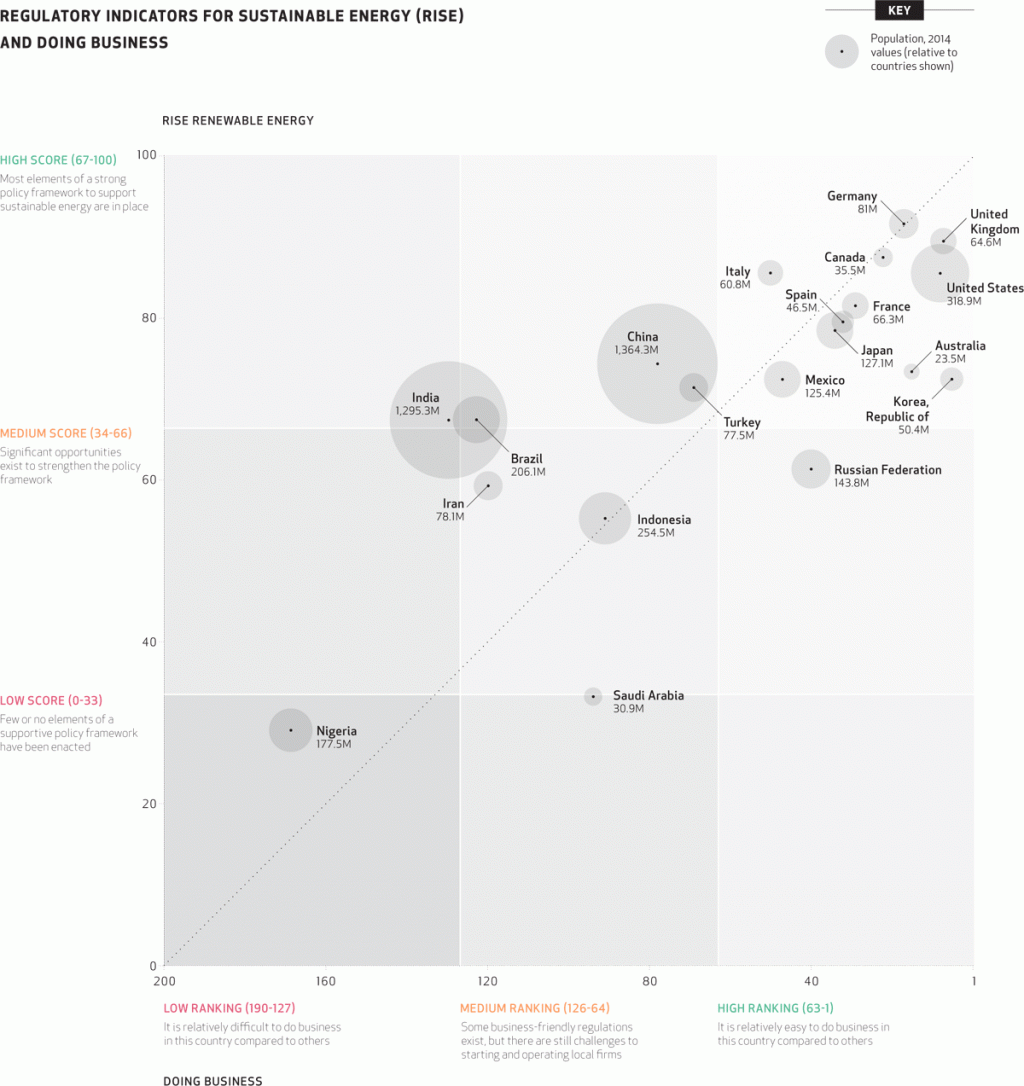 Quick Facts
The six top-performing high-impact countries for renewable energy in Regulatory Indicators for Sustainable Energy (RISE).
Including Germany, the United Kingdom, France, Spain, Japan and South Korea - also score highly for reliable power supplies and transparent electricity tariffs.
Doing Business' Getting Electricity indicator highlights the Republic of Korea for the fast process.
3 procedures and 18 days - to get access to a quality electricity services.
With strong policies and regulatory incentives, as well as a plentiful and skilled labor force across the full supply chain, China has invested more in renewable energy than any other country in the world, according to RISE. Over 2010–15, investment renewable energy investment - for solar, wind, geothermal, small hydropower, and biomass - reached $377 billion, more than the next two countries combined, the United States and Germany.
RISE offers policymakers and investors detailed country- level insight on the policy and regulatory environment for sustainable energy across 111 countries globally.
 Doing Business measures aspects of regulation that enable or prevent private sector businesses from starting, operating and expanding. It ranks economies from 1-190 based on the regulatory environment by sorting aggregate scores on 10 topics and giving equal weight to each topic.
 Doing Business' Getting Electricity indicator highlights the importance of a reliable power supply and transparent tariffs structures to support effective business activity and the deployment of renewable energy at scale.
 The high renewable energy penetration rates observed in high-impact countries such as Germany, the United Kingdom, Spain or Australia, generally result from a combination of favorable policy, regulatory and business environments.
 Doing Business's Getting Electricity indicators shows that India, Indonesia and Kenya improved the administrative processes needed to get a connection to an electricity network while also reducing the cost of connection. Further effort is needed to mitigate the risks of payment delays or defaults, reduce delays for obtaining construction permits, and meet domestic renewable targets in a timely manner.
NOTES: 1. The dotted line represents approximately the Line of Control in Jammu and Kashmir by India and Pakistan. The final status of Jammu and Kashmir has not yet been agreed upon by the parties.
2. This map was produced by SEforALL. It is based on the UN Map of the World, which can be found here: http://www.un.org/Depts/Cartographic/map/profile/world.pdf. The boundaries, colors, denominations and any other information shown on this map do not imply, on the part of SEforALL, any judgment on the legal status of any territory or any endorsement or acceptance of such boundaries.
SOURCES: International Energy Agency (IEA) and the World Bank. 2017. "Progress Towards Sustainable Energy: Global Tracking Framework 2017" (April), World Bank, Washington, DC. Data extracted from http://gtf.esmap.org/ on 06/20/2017.DC.