High-Level Forum Africa-Europe 2018 highlights digitised and decarbonised energy
Rachel Kyte, CEO of Sustainable Energy for All (SEforALL) and Special Representative of the UN Secretary-General, moderated a high-level panel on "Sustainable Energy Access–-Shifting to a digitised, decarbonised, and democratised future" as part of the High-Level Forum Africa-Europe 2018 in Vienna, Austria on 18 December.
The discussion focused on the need to shift from top-down centralised energy infrastructures to integrated systems where digitised energy systems and decentralised renewables will play a fundamental role if Africa and the rest of the rest of the world are to achieve Sustainable Development Goal 7 by 2030 .
Leading the drive toward a digitised, decarbonised and democratised energy future are such trends as increased demand for connectivity and information technology and the rise of a new generation of entrepreneurs who are using innovative solutions to disrupt the traditional energy economy.
The discussants included Alpha Condé, President of the Republic of Guinea, and Stefano Manservisi, Director-General, International Cooperation and Development, European Commission.
The session was opened by Karin Kneissl, the Austrian Federal Minister of Foreign Affairs, who declared that "Energy poverty is a global phenomenon."
Ms. Kyte set the tone of the discussions by saying that "We are on the cusp of a digital revolution. We can do things differently in the future than they did in the past."
Giuseppe Artizzu, Chief of Strategy and Development, Electro Power Systems, said that "Digitalisation allows the use of intermittent energies like solar and integration into the grid environment."
Zouera Youssoufou, Managing Director and CEO, The Dangote Foundation, underscored the need for the rapid deployment of decentralised and digitalised energy systems. "The gap between households that don't have power and those that do is the gap between life and death."
Bubacar Diallo, Founder and President, Benoo Energies, noted that "Access to energy is not just about technology, it's really about how we can have long-lasting economic development that benefits different groups."
The High-Level Forum Africa-Europe 2018 was convened by Austria as part of its rotating presidency of the Council of the European Union in the second half of 2018. The intent of the forum is to broaden cooperation between the EU and Africa, with a focus on digital technology and its importance to economic growth and development.
SEforALL hosted a reception for Forum participants afterwards at its headquarters in Vienna, featuring remarks from Gabriel Curtis, Minister of Investments and Public-Private Partnerships of the Republic of Guinea.
Read the full summary of the High-Level Forum Africa-Europe 2018: "Taking cooperation to the digital age" here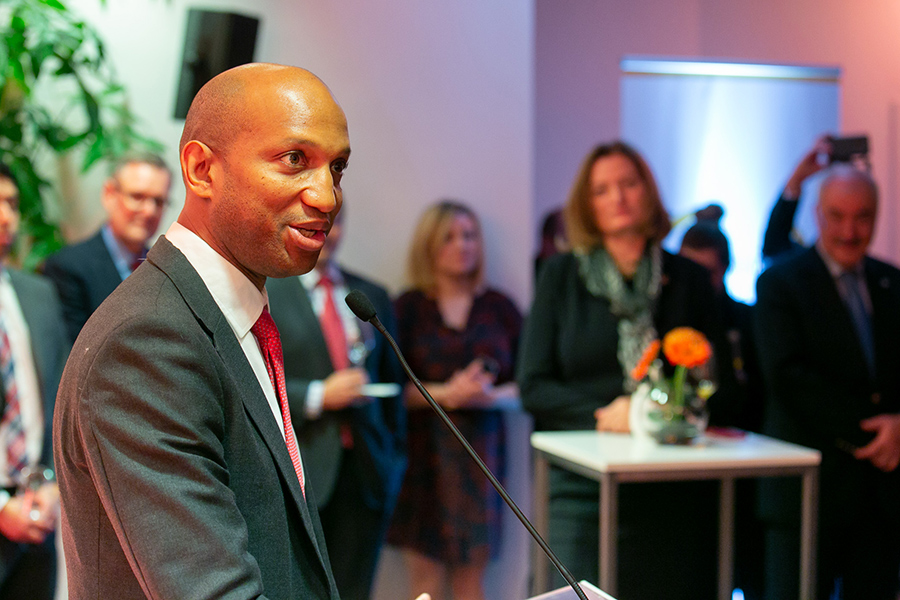 Gabriel Curtis, Minister of Investments and Public-Private Partnerships, Republic of Guinea